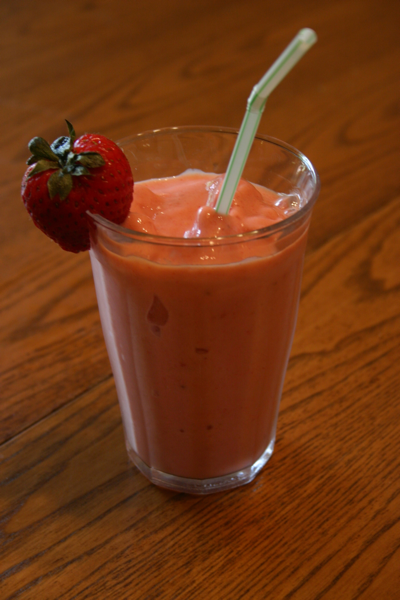 Strawberries are in abundance right now, and I have been taking advantage of the great deals. I love to eat them fresh but I also take advantage of sales and put them in my freezer to have on hand when they are not in season or the price is at a premium. I love making smoothies and strawberry smoothies are definitely a family favorite. Once you start making your smoothies at home using only real fruit and yogurt, some of the ones that are available out their just seem so artificial and too sweet.
I will go ahead and let you know my smoothies are not sweet. If you want your smoothies to be sweet add honey or sugar to your mixture. I have grown accustomed to less sugar in mine, but I understand that it is a process and not everyone will be ready for the change so adjust the ingredients to your needs.
I almost felt silly thinking about blogging about my smoothie recipe. At the same time, I really enjoy them and believe that getting as many fresh fruits into my children is very important. I have even been known to throw in a handful of carrots and spinach on occasion to increase their veggie intake without them knowing.  After I do something like that, I really like playing "can you guess what is in your smoothie?" with the boys.  It is fun to see if they can guess and they think it is interesting too.  Usually William will say something like, "You can't even taste that ingredient."  He does catch on to my tricks!
I hope you try making your own smoothies at home regardless of whether you choose my recipe or make one up on your own. Smoothies are a great breakfast on the go, and I honestly love them during the summer as a cool refreshment. Please let me know how you make your smoothies I love trying new flavors.
Strawberry Smoothie
Printer Friendly Recipe
Yields about 4 cups
Ingredients:
1 cup orange juice (I use just fresh squeezed oranges for mine.)
1/2 banana (frozen)
1 cup cubed pineapple (frozen)
1/2 cup raspberries (frozen)
1 1/2 cups quartered strawberries (frozen)
1/2 cup plain yogurt
Directions:
Put all ingredients in a blender and blend until smooth. I prefer using frozen ingredients, but if you want to use fresh just add some ice cubes for a thicker consistency. (My smoothies are on the thicker side–almost like a milkshake.) You can also use a combination of both frozen and fresh ingredients for a thinner consistency.