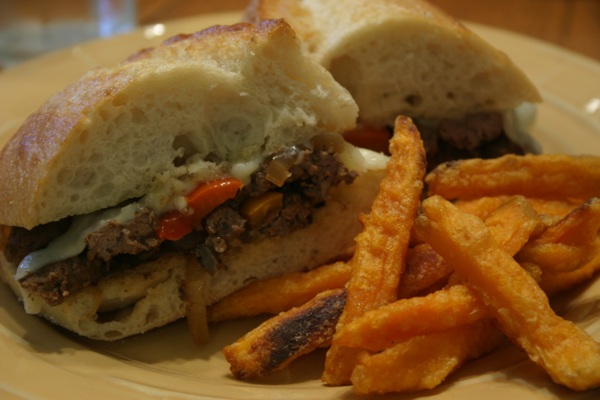 Over the weekend we had family visiting and a calendar full of activities. We had a great time visiting together, watching lots of soccer, a slew of Easter activities, and eating delicious food. These sandwiches were one of the meals we fit in to our busy schedule and they were yummy! We were feeding quite a crowd so we actually cooked everything in our electric wok, but if you half the recipe you could easily make it in a large skillet.
We felt this was a great at home alternative to a Philly Cheese Steak sandwich so if you enjoy this type of sandwich you owe it to yourself to make this at home version. We served ours with sweet potato fries and everyone was very satisfied. They would also go great with some fresh cut fruit.
Steak Sandwiches
Printer Friendly Recipe
Ingredients:
4 Tablespoons Butter (you could also do 2 tablespoons butter and 2 tablespoons olive oil)
2 pounds Cube Steak (round Steak That's Been Extra Tenderized)
Salt
Freshly Ground Pepper
1 whole Large Yellow Onion, Halved and then sliced
3 Bell Peppers, sliced (I use a variety or red, orange and yellow.)
3 cloves Garlic, Minced
1 pound mushrooms, quartered (I like cremini, but button will also work.)
2 Tablespoons (additional) Butter
3/4 cup Sherry
4 Tablespoons Worcestershire Sauce
4 dashes Tabasco (more To Taste)
8 whole ciabatta rolls (or rolls of your choice)
2 Tablespoons (additional) Butter (for buttering and toasting the rolls)
8 slices Cheese (Provolone, Swiss, Pepper Jack-whatever you prefer)
Directions:
Cut cube steak into strips against the grain. Season with salt and pepper. Set aside.
Heat 4 tablespoons butter in a large skillet over high heat. As soon as it's melted (but before it burns), brown strips of cube steak in two or three batches, about 1 1/2 minutes per side. Remove meat to a clean plate when brown. Set aside.
Reduce heat to medium-high. Add onions, garlic, peppers and cook for 3 to 5 minutes, or until relatively soft (but not flimsy.) Remove to a clean plate. Set aside.
Melt 2 add'l tablespoons butter to the skillet. Add sliced mushrooms and stir. Pour in sherry, then add Worcestershire and Tabasco. Cook over medium-high heat for five minutes, or until liquid has reduced by about a third.
Add in meat and vegetables, stirring to combine. Cook for just a few minutes to heat everything up.
Butter halved ciabatta rolls and toast in a skillet just until lightly toasted. Spoon meat/veggie mixture on the bottom half of the bun. Top with cheese and broil for a minute or two, until the cheese is melted. Remove from oven top with the top halves of the buns and enjoy!