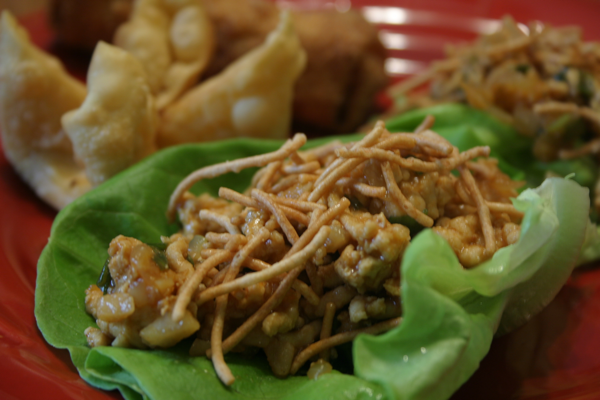 I fell in love with lettuce wraps many years ago (probably over a decade ago) when I first ate at PF Changs. The lettuce wraps were delicious and I couldn't get enough. One day, as I was reading the newspaper, I found a recipe for lettuce wraps. I knew I would have to try them. So I ventured to the grocery store and bought several items I had never used before. I had never heard of Siracha sauce (now I see it everywhere), sesame oil, and hoisin were also new at the time. I decided to just go for it and filled my cart with all of these new ingredients. Boy was I glad I did! It was lots of fun experimenting with new ingredients and now I have to confess I use several of these ingredients regularly.
It had been quite awhile since I had made these lettuce wraps at home, but I thought they were just the thing to get us out of our mexican food rut. (I have to confess I have enchiladas ready for the oven as I write this post.) These were just the thing. The flavors are perfect together. We served ours along side egg rolls, crab rangoon, and hot and sour soup (from the local chinese carryout). This meal is the perfect weeknight meal, if I do say so myself! I know I kinda cheated with my sides, but for a weeknight meal when we are still running from one event to the next I gave myself permission.
Asian Lettuce Wraps
Printer Friendly Version
Ingredients:
1 pound ground turkey or chicken (I buy white meat chicken that is very lean.)
1 8-ounce can sliced water chestnuts, finely chopped
about 1 cup finely diced onion
2 tablespoons minced garlic
1 tablespoon soy sauce
1/4 cup hoisin sauce
2 teaspoons grated fresh ginger
1 tablespoon rice wine vinegar
2 teaspoons Siracha Asian chili pepper sauce
1 bunch green onions, sliced
2 teaspoons sesame oil
bibb or butter lettuce (for serving)
rice noodles for topping
Directions:
Cook meat on high, turning and stirring to break up into smaller pieces. As the meat begins to cook, add the onion, turning the heat to medium high. Continue cooking stirring frequently until the chicken is cooked through and the onions are softened. Add garlic, soy sauce, hoisin sauce, ginger, vinegar and chili pepper sauce. Cook until well combined and the chicken is crumbled. Add water chestnuts and reduce heat to medium. Add green onions and sesame oil and cook for about 2 more minutes or until the green onions begin to wilt. Serve on lettuce topped with rice noodles.