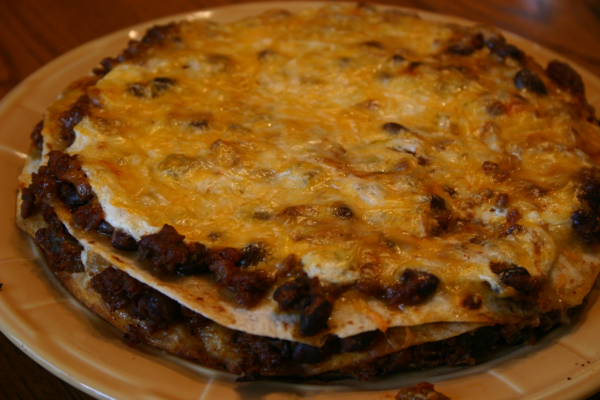 First, I need to give my wonderful husband at shout out. He did an incredible job on making my birthday special and topped it off with an AMAZING cake and then guest posted about it so I could take the day off. He is wonderful. I am truly blessed to have him.
Second, congratulations to Sarah B. she was the winner of the silicone baking mats. Sarah the mats are in the mail. Thank you to everyone who commented. I loved hearing all about your favorite goodies. Apparently I need to give Cadbury eggs another try. They are definitely one of the favorites for an Easter treat.
Over the weekend, we did lots of cooking at our house. I have lots to share with you. I even had it all figured out how I would post and then yesterday I tried a new recipe and loved it so much that all of my previous planning went out the window. I don't know about you but we have been busier than ever it seems. I feel like I am constantly going through a revolving door rushing from one activity to the next. Family dinners are something I have always prided myself on, but honestly I was beginning to see the attractiveness of the drive-thru after running from one thing to the next. Thankfully I found this recipe for taco bake before I let myself be tempted into the drive-thru.
The recipe turned out to be delicious, and what was even better was that while I was preparing last night's dinner I put an extra in the freezer for another meal. While I normally do not like to prepare meals and then freeze them, this one somehow seemed worthy of trying. (I normally prefer to have easily thrown together ingredients rather than a frozen entree. I will, however, let you know what I think when I cook the portion I froze.) I don't think you will have to wait to long for the outcome because the freshly prepared one was such a hit last night.
Beef Taco Bake
Printer Friendly Version
One of these bakes (half the recipe) will feed a family of four (with two small children). For larger families or bigger appetites see the notes after the recipe.
Ingredients:
1 lb ground beef
1 onion, chopped
2 cups salsa
1 can black beans (do not drain)
1 tablespoon chili powder
1 teaspoon oregano
1 teaspoon cumin
1 teaspoon garlic powder
6 medium sized flour tortillas
1 cup sour cream
1 (4oz) can green chilies
2 1/2 cups shredded cheese
fresh veggies to top: avocado, lettuce, tomatoes and green onions
Directions:
Brown beef and onions in a large frying pan set over medium heat, adding salt and pepper to taste. Stir in salsa, beans and spices. Heat through.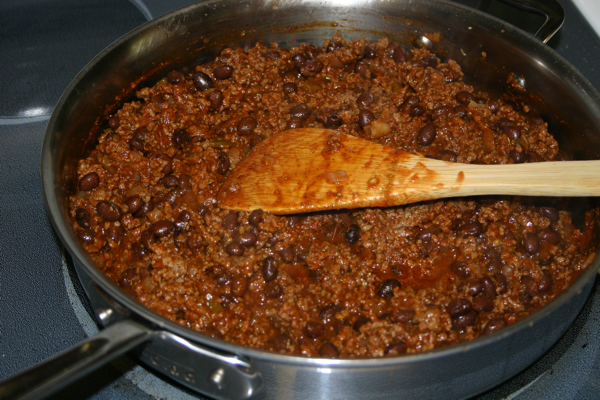 Mix together sour cream and green chilies.
Coat 2- 8 inch cake pans with cooking spray. Place one tortilla in the bottom of each. Divide 1/3 of the beef mixture between the two pans and spread over tortilla. Top with 1/3 (divided) sour cream mixture and shredded cheese. Repeat layers two more times. Cover both with foil. Place one in the freezer and bake the other at 400ºF for 30 minutes. Remove foil and bake for an additional 10 min. Let cool 5 minutes before cutting into wedges and serving.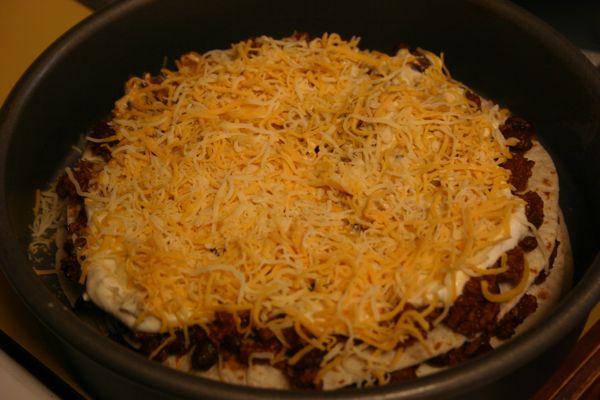 * For a larger family you can prepare this in a 9×13 pan, making only 2 layers. 3 tortillas for each layer and the rest divided in half. Bake for the same amount of time.
* To bake from frozen: Preheat oven to 400ºF. Remove frozen Taco Bake from freezer and place straight into the oven. Bake covered for 1 hour. Remove foil and bake an additional 20-25 minutes until heated through.