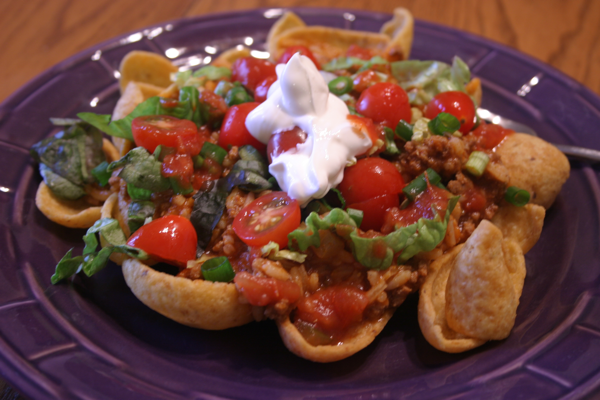 For the last several days we have been surrounded by family. Jeffrey's grandfather, William M. Greathouse, passed away on Thursday evening, March 24th. We headed to Nashville to spend time with family before the funeral. It has been a bittersweet time. We are saddened by our loss but rejoice that his rest is won and that he has entered the loving arms of his Heavenly father.
This time together with family brings back many fond memories. I have to confess that lots of the memories with Granddaddy took place around the table. When Jeffrey and I were in college, we were blessed to have a standing reservation at the Greathouse table for Sunday dinner. It was around the Sunday table that many of us grew up and were shaped into the adults we have become. The meals were a combination of yumminess where everyone in the family chipped in. My cooking was definitely shaped by the influence of these great cooks.
Today's recipe actually comes from Jeffrey's Aunt Becky. While this would not have been served for a Sunday dinner, it was an excellent recipe for a less formal occasion. I remember the first time I had it. Jeffrey and I had gone over to Aunt Becky's to help with a computer problem. (In full disclosure, Jeffrey was asked to help with the problem. I was just there for the food.) It was a super yummy meal and great for a weeknight meal. I also remember finishing off the meal with homemade apple pie. (Becky's apple pie is still one of my favorites.)
So while Mexican food would not have been Granddaddy's first choice (he preferred Asian cuisine) when picking a meal, I am sharing Aunt Becky's Mexican dinner because family shapes and forms us into the people we become. I am honored to be a part of this wonderful family and hopefully in my own way help carry on the great tradition of hospitality and good cooking.
Thank you Granddaddy! You will be greatly missed, but you leave a legacy that I am honored to participate in and share with my children.
Aunt Becky's Mexican Dinner
Printer Friendly Recipe
Ingredients:
1 pound ground beef
1/4 cup chopped onion
1 small can tomato paste
3 cans of water using the empty tomato paste can (I actually use 5 or 6 cans of water.)
1 teaspoon chili powder
1 teaspoon cumin
1 teaspoon oregano
1 teaspoon salt
2 tablespoons sugar
1 clove garlic
1/2 cup uncooked rice
Fritos, shredded cheese, shredded lettuce, hot sauce, sour cream, chopped tomatoes (for serving)
Directions:
Cook the ground beef and onion together in a skillet until browned and cooked through. Drain off the grease. Combine the browned meat with all the other ingredients in a medium saucepan. Simmer for about 40 minutes (until the rice is tender.) Serve on a bed of corn chips. (My favorite is Fritos.) Top with grated cheese, chopped tomatoes, shredded lettuce, hot sauce, sour cream, etc.