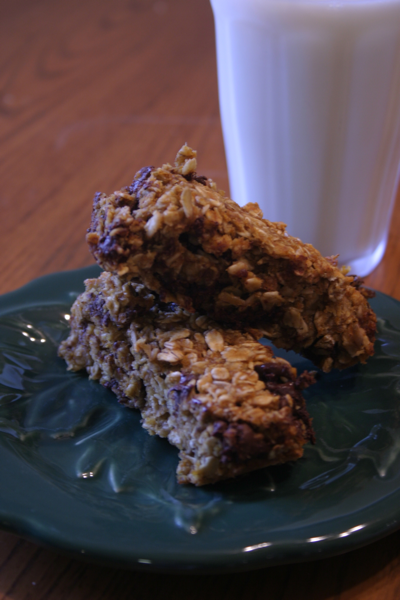 Before you ask, I have not lost my mind. I know we are beginning Spring and not Fall. I was searching through some recipes online and this one just jumped out at me through the browser and I had to try it. When I saw the recipe, I knew it would be the perfect snack for my oldest.  William loves pumpkin more than just about anything in this world. He was bummed that Spring Break was over, and that he had to return to school. I thought, "what a great idea for an after school snack."  I was right! These are delicious.
Fortunately, I had everything on hand for this very simple recipe. (I told you I stock up on pumpkin…I may or may not still have 3 cans in the cabinet. :)) The recipe was quickly put together and was on the counter cooling when William got home from school. He smelled the yumminess and wanted to know if he could have one. I told him, "yes" and that I had made them just for him.  I didn't tell him what flavor they were. One bite and he informed me that this was hands down "the best granola bar he had ever eaten (including all of the store bought ones)."  I was grinning from ear to ear. He might be biased, but I'll take the praise.  I have been searching for a homemade granola bar that he would enjoy. I think I found it. Now with this one under my belt I have a few more that I am excited to try. While I love the fruit and nut variety, the boys seem to like theirs a little more on the simpler side.
Pumpkin Chocolate Chip Granola Bars
Printer Friendly Recipe
Makes 10-12 granola bars
Ingredients
3 1/4 cups old fashioned oats
3/4 teaspoon cinnamon
1/8 teaspoon ginger
1/8 teaspoon allspice
1/8 teaspoon nutmeg
1/2 teaspoon salt
¾ cup brown sugar
½ cup pumpkin puree
¼ cup applesauce
¼ cup honey
1 teaspoon vanilla extract
1 cup chocolate chips
Directions
Preheat oven to 350° F. Spray an 8 x 8 baking pan with cooking spray and set aside.
In a large bowl, whisk oats, spices, and salt together. Set aside.
In a medium bowl, whisk brown sugar, pumpkin, applesauce, honey, and vanilla extract until smooth. Pour over oats and stir well, until all of the oats are moist. Stir in chocolate chips.
Evenly press oat mixture into prepared pan. Bake for 35-40 minutes, or until golden brown. The pumpkin keeps the bars moist, so make sure they are golden and set -you don't want them to be under-baked.
Remove from oven and let cool 5 minutes. Using a sharp knife, cut into bars and remove from pan to continue cooling. William states that these must be served with a tall glass of milk!