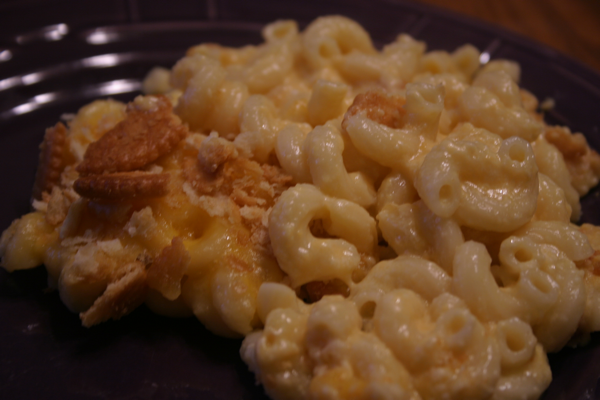 Several months ago, Jeffrey, the boys and I were headed to Nashville. We were talking to some friends about the bliss that is a "meat and three." To their midwestern minds the concept was completely foreign. Jeffrey and I, along with our friends Jared and Ashley, were explaining that a "meat and three" is a restaurant where you pick a meat (there are normally choices like pulled pork, fried chicken, etc.) and three vegetables to go along with the meat. If you are doing it right, you will need sweet tea to wash it down.
One friend in the group stated that she couldn't think of three vegetables she would like.  So she asked the logical question, "Why would I want to go to a place like that?" Ashley and I answered with, "Well macaroni and cheese is a vegetable in the South!" I think we peaked the non-southerners into at least giving this type restaurant a chance if they find themselves in the South. I would advise the same for anyone else who hasn't eaten at such an institution. If you go to one where they know what they are doing, you will be in Heaven!
So all that to say…Macaroni and cheese is comfort food at its finest! I have even made macaroni and cheese as the requested birthday meal for family members, and I am not just speaking about children. Adults love this macaroni and cheese and are pleased to have it on the short list of their favorite meals.
I have been putting of posting this recipe, because everyone has "their" recipe they go to when making macaroni and cheese.  More than that I don't (or didn't until I just wrote one for the post) have a recipe that I follow. I make a basic béchamel sauce and then add lots of cheese. I don't measure anything, and just keep tweaking the macaroni and cheese until I get it how I want it…gooey, creamy, and extra cheesy. I am doing my best in giving you the best measurements to my knowledge, but taste as you go and  feel free to adjust to your own tastes.
What is your favorite way to eat macaroni and cheese? Do you prefer it baked or on the stove top? What are your favorite cheeses to use?
Macaroni and Cheese
Ingredients:
4 tablespoons butter
4 tablespoons flour
4 cups milk
1/2 pound macaroni
1 1/2 pounds sharp cheddar cheese (I cut mine into thin slices but you can shred it if you prefer.)
salt and pepper to taste
Ritz crackers (about one sleeve crushed)
Directions:
Preheat oven to 350 degrees.
In a large pot of salted boiling water, cook the macaroni until it is al dente. (Follow the cooking directions on the box for the time.) Once the macaroni has cooked, drain and set aside keeping it covered to stay warm.
While the macaroni is cooking, melt the butter in a medium saucepan. Once the butter has melted whisk in the flour making sure to get rid of any lumps. You want the mixture to be smooth. Continue stirring and cooking the flour and butter together for about 5 minutes. Add the milk, whisking to make sure the butter and flour mixture are well incorporated into the milk. You can now switch to a wooden spoon. Stir the mixture constantly over a medium low heat until the mixture thickens and will coat the back of the spoon. (You want to be sure the mixture doesn't burn on the bottom–so make sure you stir it well.) Once the mixture begins to bubble, you are at the right consistency. Remove the milk mixture from the heat and stir in 1 pound of the cheese. Stir until the cheese is melted, and add salt and pepper to taste. (You may want to taste at this point to see when you have enough for your taste.)
Combine the cheese sauce with the reserved macaroni. Stir until well combined.
Spray a 9 by 13 baking dish with non-stick cooking spray. Pour the macaroni mixture into the prepared baking dish. Top the macaroni with more cheese and the crushed Ritz crackers. Bake for about 20 minutes at 350 degrees until the cheese is melted and the crackers are toasty.
* I have put this together up until topping with crackers and refrigerated it for an easy meal the next day.  When I make it this way, I normally add a little bit more milk to make it more creamy since the macaroni will absorb more of the cheese mixture as it sits in the fridge overnight. When I am ready to bake it, I just top it with the cheese and crackers and bake. You will need to increase the cooking time since everything is cold when it goes into the oven.