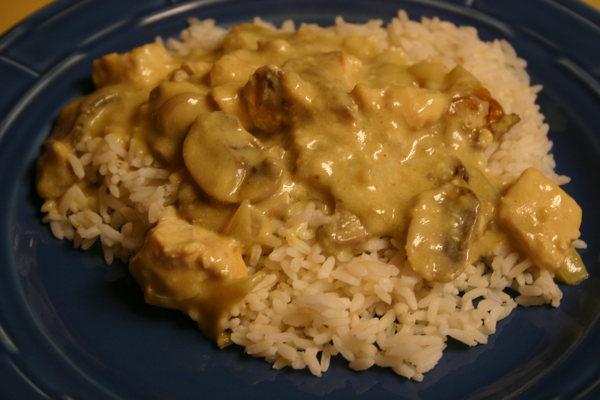 This chicken curry recipe is one of my all-time favorites.  It is a recipe from my mother-in-law, Beth that she received from her friend Linda.  It is a Sykes' family favorite.  Beth actually made this for our wedding rehearsal dinner.  I think it was the first time I had ever had it, and honestly I don't remember it at all.  (I had way too much on my mind.  I was getting married the next day!)  Fortunately it is in a family cookbook we put together several years ago.  One day I was going through the family cookbook looking for ideas and I thought I should try it.  (The cookbook mentions how it was served at our rehearsal dinner and what a hit it was.)  Needless to say after making it that first time, I have now made it countless times.
I have served this many times for guests who gather at my table, catered it for dinner events, but the best thing about this dish is that my boys will eat it!  William and Tyler eat around the mushrooms and William doesn't always enjoy the apples, but overall it is a crowd pleaser and I am more than happy to eat any mushrooms that the boys find in their portions.  Actually, I have to fight Jeffrey for them. So if you are looking for something delicious and easy to throw together, Give this one a try. I think it was my introduction to curries and now curries are easily growing to become one of my favorites.
Chicken Curry
Printer Friendly Recipe
Ingredients:
1 stick butter
1 onion, chopped
1 apple, chopped
1 teaspoon curry powder
1 package sliced mushrooms (I use baby portabellas, but any will do. You can even use a can of sliced mushrooms just make sure you drain them first.)
1 can cream of mushroom soup
1 can cream of chicken soup
salt and pepper to taste
6-8 uncooked boneless, skinless chicken breasts cut up into cubes or chunks
1 cup half and half or evaporated milk
Directions:
Preheat oven to 350 degrees.
Melt butter in a large skillet. Add onion, apple, curry powder and sliced mushrooms sauteing until the veggies and apples are tender and softened. Once the mixture has become softened, add the soups, half and half, and salt and pepper to taste. Stir to combine.
Spray a 9 by 13 baking dish with non-stick cooking spray. Put your chicken in the bottom of the baking dish and pour the soup mixture over top. Stir a little bit to combine.
Bake uncovered for 1 1/2 hours. Serve over hot rice.