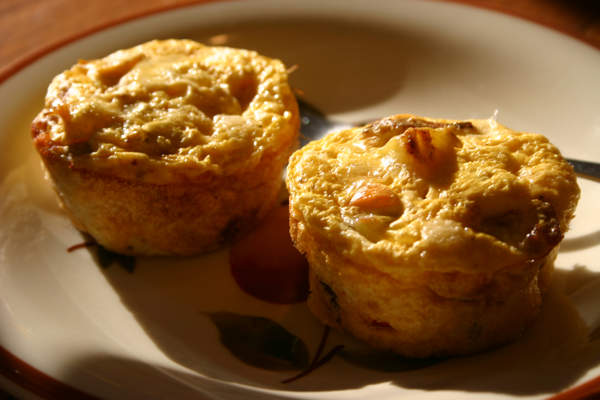 These frittatas have been on my mind for several weeks.  I make them on occasion when we have overnight guests, but rarely do I make them for just our family.  My hesitancy in making them is partially due to the fact that my children will protest.  They enjoy all of the separate parts, but for some reason when you put them together and I think it is too much for them. Today I was hoping that Tyler would decide he liked them since he is on an egg kick–alas I think he is a purist and would not budge from his standard request for scrambled eggs. Jeffrey and I, however, love these and I thought a few leftover in the fridge wouldn't be a bad idea.  (The time change and I are not getting along so well.  Thank goodness its Spring Break.)
I made these from start to finish in the morning. If you need to be out the door in a hurry, I would suggest that you may want to cook your bacon, potatoes and veggies the night before.  With that prep completed, all you have to do is assemble and cook the morning you want to enjoy them.
Individual Potato-Bacon Frittatas
Printer Friendly Recipe
Ingredients:
3/4 pound small red potatoes (about 6) (I have substituted small yukon gold as well.)
Cooking spray
1/2 cup chopped onion
1/2 cup chopped red bell pepper
2 garlic cloves, minced
3/4 cup Swiss cheese, shredded
4 bacon slices, cooked and crumbled
2 cups egg substitute (I prefer egg substitute but 8 eggs could be substituted.)
1/4 teaspoon salt
1/4 teaspoon freshly ground black pepper
Directions:
Place potatoes in a pot, and cover with water. Bring to a boil, and cook 20-25 minutes or until tender. Drain; cool slightly. Cut potatoes into 1/2-inch cubes.
Preheat oven to 375°. Spray a 12 cup muffin pan with cooking spray. Set aside.
Spray a medium skillet with cooking spray and heat over medium heat. Add onion, bell pepper, and garlic to the pan and sauté for about 5 minutes or until tender. Remove from heat. Stir in potatoes, cheese, and bacon. Divide the vegetable mixture evenly into the prepared muffin pan. Combine the egg substitute, salt and pepper together. Pour egg mixture evenly over the veggie mixture in the muffin cups.
Bake at 375° for 18 minutes or until set. Remove from muffin cups, and cool slightly.
Adapted from Cooking Light