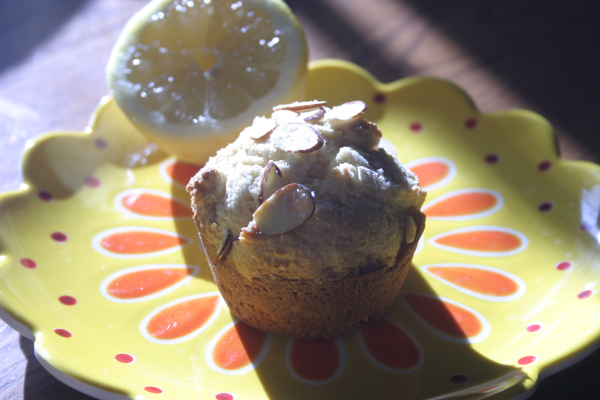 We have had a crazy weekend at our house.  I am notorious for thinking up home improvement jobs thinking they will be minor undertakings when in reality the end up consuming our entire weekend.  I decided our downstairs family room area needed to be updated to the current decade.  In my mind, the task meant scraping the "dated" popcorn off the ceiling and putting up a couple of coats of paint and we should be good.  Well, the popcorn was the least of our worries.  It came off quite easily.  The dated "barn-siding" paneling was another story…3 1/2 gallons of primer later we were ready to paint.  I am fortunate I can bribe my friends with food.  Otherwise, we would still be priming.
I can honestly say that we have gotten take-out more times than I care to admit over the last few days.  I normally pride myself in being able to come up with something easy and nutritious.  That was not the case this weekend with the exception of these muffins on Saturday morning.  William had been requesting lemon ricotta muffins for several weeks, and I had bought the ingredients to have on hand for a special Spring Break breakfast. Instead of giving in once again for take-out (the apple fritters from the local donut shop were calling my name ever so sweetly) I decided to throw these muffins together.  I really love these muffins and they were quite the treat.  (William however informed me these were not the muffins he had been requesting.  What he really wanted was my  Lemon Poppy Seed Muffins.)  These muffins are a cross between a muffin, scone, and biscuit.  The delicate flavor is a wonderful compliment to the springlike weather we were enjoying.
I hope you take the time to try these yourself.  The lemon and almond flavoring are easily becoming a favorite of mine.  These muffins are a great way to add variety to your morning and will go perfectly with a good cup of coffee.
Lemon Ricotta Muffins
Printer Friendly Recipe
Ingredients:
2 cups flour
1/2 teaspoon baking powder
1/2 teaspoon baking soda
1/2 teaspoon salt
1 cup plus 1 teaspoon sugar (divided)
1 stick unsalted butter, softened
1 tablespoon finely grated lemon zest (about 2 lemons)
1 cup ricotta cheese
1 egg
1 tablespoon fresh lemon juice
1/2 teaspoon almond extract
1/3 cup sliced almonds (for topping) William and Tyler prefer there muffins without almonds.
Directions:
Line or spray a 12 cup muffin pan. Preheat oven to 350 degrees.
In a medium bowl whisk together the flour, baking powder, baking soda, and salt. Set aside. In a large bowl, using an electric mixer, beat 1 cup sugar, butter, and lemon zest together until light and fluffy. Beat in the ricotta. Add egg, lemon juice, and almond extract and beating until smooth. Add the dry ingredients to the wet ingredients and stir with a wooden spoon or spatula until blended. (The batter will be thick and fluffy–almost the consistency of biscuit dough.)
Divide the batter evenly among the prepared muffin cups. Sprinkle the top with almonds and the remaining teaspoon of sugar. Bake until the muffins just become pale gold on top, 20-25 minutes. Cool slightly before removing. Enjoy!