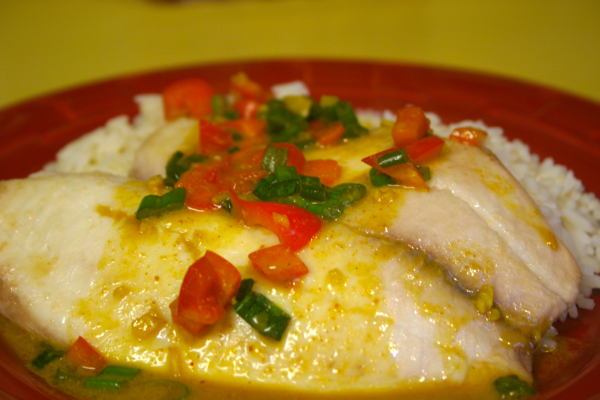 I thought it would be appropriate to blog about some fish recipes on Fridays during Lent. I am not going to promise one every week although I will try to do as many as possible.
I am fortunate that my family loves fish. Tilapia and salmon are two of our favorites and I can always count on the boys gobbling it up. The other day while making a milk run to Costco, William pleaded with me to buy some tilapia. How can you say no when your child asks for fish? Well I couldn't, and I had been waiting to share this recipe so I thought it was perfect timing.
I have just recently grown to love curries. The complexity of flavor is easily becoming a favorite. The addition of coconut milk with the curry makes this savory sauce interesting and honestly I could just eat the sauce over rice without the fish (Jeffery did have some extra rice with the sauce). The sauce is a little on the spicy side so you may want to use less of the red curry paste and taste it before you add the whole 2 teaspoons. (William loves the sauce but Tyler prefers to eat his fish and rice without.) The recipe says it serves four but I always have at least a cup of sauce leftover so you can easily serve a few more people by throwing a couple more fish fillets under the broiler.
I hope you enjoy this recipe as much as I do. What is your favorite type of fish? I will be sharing my all-time favorite recipe in the next couple of weeks.
Broiled Tilapia with Thai Coconut-Curry Sauce
Printer Friendly Recipe
Ingredients:
1 teaspoon dark sesame oil, divided
2 teaspoons minced peeled fresh ginger
2 garlic cloves, minced
1 cup finely chopped red bell pepper
1 cup chopped green onions
1 teaspoon curry powder
2 teaspoon red curry paste
1/2 teaspoon ground cumin
4 teaspoons soy sauce
1 tablespoon brown sugar
1/2 teaspoon salt, divided
1 (14-ounce) can light coconut milk
2 tablespoons chopped fresh cilantro
4 (6-ounce) tilapia fillets
cooking spray
3 cups hot cooked rice
lime wedges for garnish if desired
Directions:
Preheat broiler.
Heat 1/2 teaspoon of sesame oil in large skillet over medium heat. Add garlic and ginger; cooking for 1 minute. Add red pepper and green onions, and cook for 1 more minute. Stir in cumin, curry powder, and curry paste cooking 1 more minute. Add brown sugar, 1/4 teaspoon of salt, soy sauce and coconut milk bringing the mixture to a simmer. DO NOT BOIL! Remove from heat and stir in cilantro.
Spray baking sheet with cooking spray and place fish on sheet. Brush the fish with 1/4 teaspoon of sesame oil and sprinkle with a 1/4 teaspoon of salt. Broil 7 minutes or until the fish flakes easily when tested with a fork.
Serve fish with sauce, rice, and lime wedges.
Adapted from Cooking Light