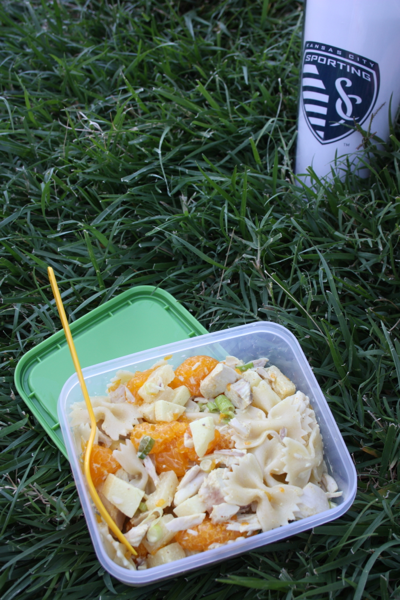 The summer finds our family at the pool quite often. Both boys are on the swim team and William decided to give dive team a try this summer. Needless to say, this calls for lots of hours spent at the pool and fewer in the kitchen.
As I was planning out my week, it occurred to me that my Tuesday evenings would be spent sitting poolside watching William and his fellow dive team members plunging into the pool. This meant being a little creative with dinner. Since this is our first year in dive team, I didn't know what to expect, but I knew sitting at the pool hungry was not going to cut it (the dive meets are scheduled right at our normal dinner time). I decided on a picnic for Jeffrey and myself. I could easily let the boys eat beforehand, but Jeffrey walks in the door from work and it is time to turn right around and head back out.
Jeffrey is quite picky when it comes to chicken salad though he loves this recipe that my Mom used to make. I thought it would be a great picnic for us to eat while watching William dive. It was the perfect meal. We added some fresh fruit and some pretzel sticks to round out the meal and we were both quite satisfied.
If you are looking for something different to bring to your table this summer, this is a great one to try.
Curried Chicken Pasta Salad
Ingredients:
2 cups cooked pasta (I use bow-tie.)
1 cup pineapple tidbits, drained (reserve the liquid)
1 cup mandarin oranges, drained
1 cup peeled and chopped apple (I use Granny Smith.)
2 cups cooked chicken, diced
1/4 cup chopped green onions
1/2 cup mayonnaise
2 teaspoons brown sugar
1 teaspoon curry powder
3 tablespoons pineapple juice, reserved from the can of pineapple tidbits
Directions:
Combine the pineapple juice, mayonnaise, brown sugar, and curry powder together in a large bowl. Whisk until smooth and well combined.
Add the pineapple, mandarin oranges, apple, chicken, pasta, and green onions and toss to coat in the curry mixture. Refrigerate until ready to serve.