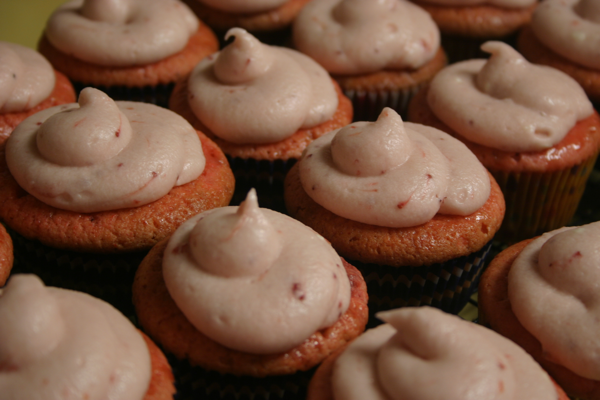 I am honored to be guest posting on Frosting for the Cause today. Frosting for the Cause is a blogging project bringing together bloggers from across the US and Canada to help provide awareness about cancer, support efforts working to finding a cure, and brighten someone's day by offering our baked goodies to those being treated or those who are working with cancer patients.
I first heard about "Frosting for the Cause" through Aimee's blog Under the High Chair. As soon as I read the post, I knew I wanted to be a part of this amazing group of ladies and this wonderful cause. I immediately went to the Frosting for the Cause site and signed up. I was so excited!
Unfortunately, I feel like I've already had too many dealings with cancer, and I am only 33. When I was a senior in high school, my mother was diagnosed with liver cancer. I was devastated. My mom underwent chemo and had a resection of her liver (they removed a large part of it). She made it through, but once cancer has entered the picture it is always in the back of your mind. You always wonder, "Will it come back?" Unfortunately, it did come back. We were blessed that she had 10 wonderful years between my mom's first diagnosis and the return of her cancer. My mom was able to share in lots of events that I wasn't even sure she would be around for when she was first diagnosed: my high school graduation, my wedding, and the birth of my son William (her first grandchild).
My mom was so excited to meet her grandchild and even hopped on a plane when I was headed to the hospital to deliver. She made it just in time! I didn't know at the time, but in all my excitement of having my first child mom was dealing with the possibility that her cancer had returned. Several weeks after William's birth, mom returned for the celebration of his baptism. She arrived a few days early to "help me get things in order." It wasn't until she arrived that I found out the real reason she arrived early. She came to tell me that her cancer had returned. I was in shock once again. I will never forget that moment. Not only had the cancer returned to her liver but it also had spread to her lungs.
I spent the next year traveling between Kansas City and Tennessee. I wanted to ensure that she spent as much time with her grandson as possible. We were there beside her during chemo treatments and experimental procedures. It was a trying time, but she had her sweet grandson beside her. Mom even made it to William's first birthday. Unfortunately, she did not make it to the birth of my second son, Tyler. She knew he was on the way though and told everyone that she met about her grandchild on the way. Mom passed away in March of 2004 just a couple of weeks before she would have celebrated her 57th birthday.
My mom left me with a wonderful legacy. She loved food and sharing it with others, which is why I began blogging. I wish she were still around to be a part of this experience with me. (My husband often tells me that she would have been proud of my blog.) So, in honor of my mom, Elizabeth Harrell Hensley, I am making Strawberry Cupcakes. She was an amazing lady and I know she would approve of this wonderful project though I'm sure she would be sorry that she couldn't sample all of the wonderful recipes being shared. This project combines two of her passions. She loved goodies of all kinds and was hardly ever without some sort of treat in the house. She also regularly worked to do fundraisers for combating Breast cancer.
I'm sure Mom would have approved of this recipe (which is my husband's great-grandmother's favorite cake), and I count it a privilege to donate these to KU Hospital in her honor.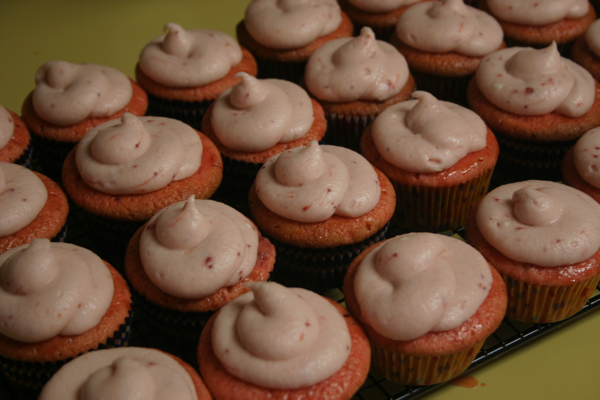 Strawberry Cupcakes
Printer Friendly Recipe
Ingredients:
1 box white cake mix
4 eggs
1 cup canola oil
½ cup strawberries from 1 box frozen strawberries, thawed and drained (juice reserved) You will use the remainder in the frosting.
1 box strawberry gelatin (Jell-O)
½ cup cold water
Directions:
Preheat oven to 350 degrees. Line cupcake pans with cupcake liners.
Dissolve strawberry gelatin in ½ cup cold water. Combine cake mix, eggs, canola oil, ½ cup strawberries, and dissolved gelatin in a mixing bowl. Mixing thoroughly.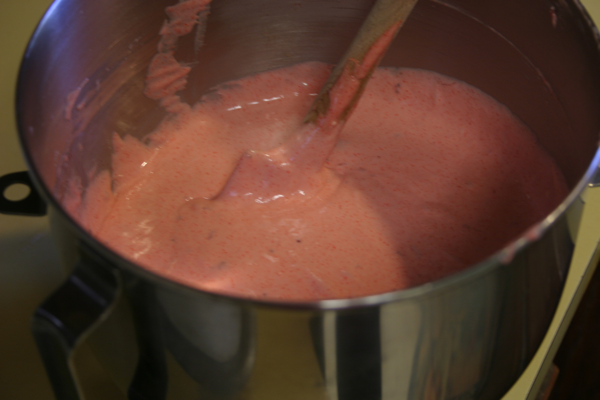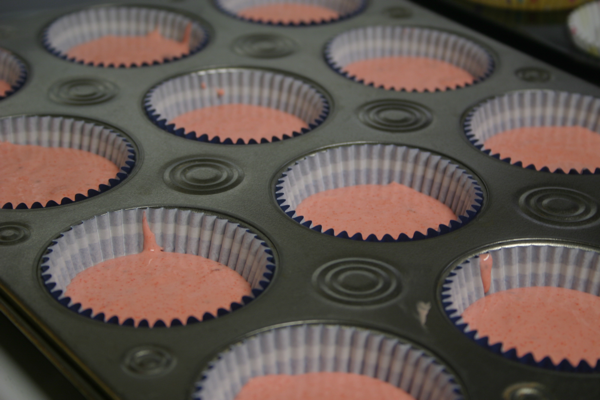 Fill cupcake liners 1/2 – 2/3 full with the batter. (I use a large scoop so I am consistent with the amount of batter in each liner.)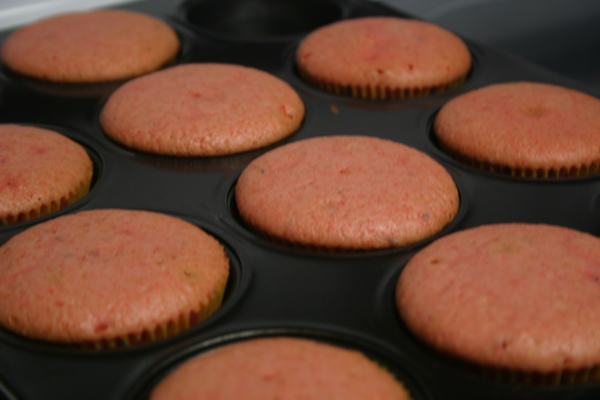 Bake for approximately 20 minutes. Remove cupcakes from oven. Brush cupcakes with reserved strawberry juice. Let the cupcakes cool.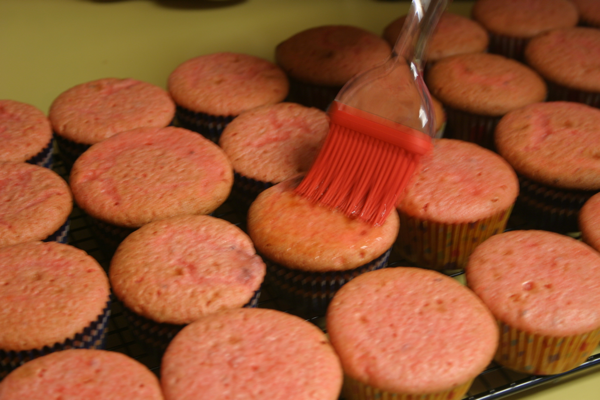 Once the cupcakes have cooled frost with frosting. I combined a cream cheese frosting I had on hand from a previous cupcake recipe I had made earlier in the week with the strawberry frosting. I loved the combination of the strawberry frosting mixed with the cream cheese frosting but either frosting would be excellent on its own.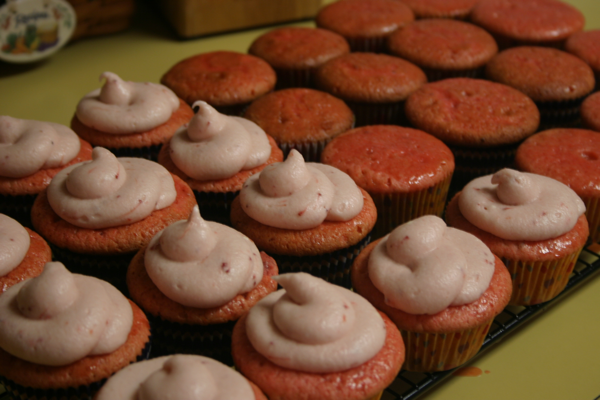 Strawberry Frosting
Ingredients:
1/3 cup drained strawberries
16 ounces powdered sugar (you may need more depending on how stiff you want the frosting.)
½ cup butter softened
½ teaspoon vanilla
Directions:
Combine strawberries, powdered sugar, and softened butter in the bowl of a stand mixer. Mix on low to incorporate the powdered sugar increasing speed to create fluffy smooth frosting. Add vanilla and beat until incorporated.
Cream Cheese Frosting
Ingredients:
8 ounces of cream cheese
¾ cup butter (1 ½ sticks)
2 2/3 cups powdered sugar
1 teaspoon vanilla
Directions:
Beat all ingredients together until fluffy.