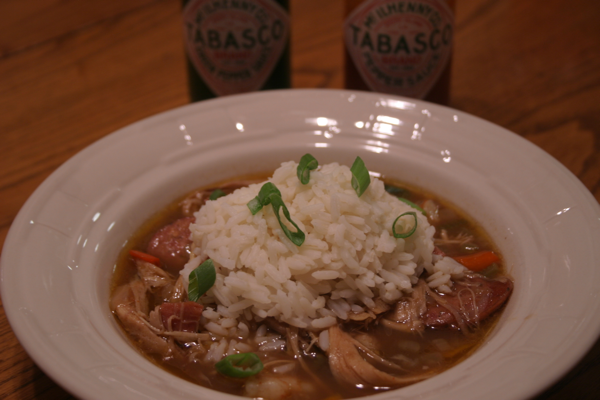 Last year I decided we would start a tradition an eat gumbo on Fat Tuesday (the Tuesday before Lent begins).  While I have never visited New Orleans I have always been intrigued by some of the customs and rituals that go along with Mardi Gras.
This year I decided I wanted to keep the tradition of the gumbo, but thought it would make an excellent post so I made it over the weekend.  Boy was I glad I did!  I forgot how long it takes to make a proper roux.  There is a lot of stirring in this recipe.  It is well worth it though.  The flavors are delicious.  Since I haven't visited New Orleans, I can't comment on whether or not this comes close to the traditional dish, but I have to say no one in my house was complaining when we scarfed it down Saturday night.
Since you will be stirring your roux constantly, you will want to plan accordingly and pre-chop your veggies before beginning your roux.  Please remember once it really starts cooking you need to stir the roux constantly.  It is well worth the effort.  I love the combination of flavors.  While it does take a little more time than most of my meals, I think is is definitely worth it. After you take the first bite, you won't care that you stood and stirred the roux for 30 minutes.  While this is not as healthy as some of the meals that we serve at our house I think it is well worth the splurge.
Chicken, Ham, and Smoked Sausage Gumbo
Printer Friendly Recipe
Ingredients:
1 cup vegetable or canola oil
1 cup flour
1 1/2 cups chopped onion
1 cup chopped celery
1 cup chopped bell peppers (I use a variety of yellow, orange, or red)
1 pound andouille sausage, cut into 1/2 inch slices
1/2 pound smoked ham, cut into small cubes
1 1/2 teaspoons salt
1/4 teaspoon cayenne pepper
1/4 teaspoon black pepper
3 bay leaves
3 quarts chicken stock
3 cups cooked and shredded chicken (I usually cook the chicken in the crock-pot the day before.)
1/2 cup chopped green onions (for garnish)
Hot sauce (optional)
cooked white rice for serving
Directions:
In a large pot or Dutch oven, heat the oil over medium heat. Stir in the flour. Stirring slowly and constantly for 20-25 minutes until the roux is dark brown (the color of chocolate).
Add the onions, celery, and bell peppers continuing to stir for 4 to 5 minutes. The veggies will begin to soften. Add the andouille sausage, ham, salt, cayenne, pepper, and bay leaves stirring well to coat. Cook stirring, for about 4 minutes.
Add the chicken stock and stir well to combine. Bring to a boil. Reduce the heat to medium-low and cook uncovered, stirring occasionally for 1 hour.
Add the chicken and cook until it is heated through about 5 minutes. (I have also added shrimp at this point in the recipe.)
Remove from the heat. Ladle into bowls and top with a spoonful of cooked rice. Sprinkle green onions on top and serve with hot sauce, if desired.
Adapted from Emeril Lagasse