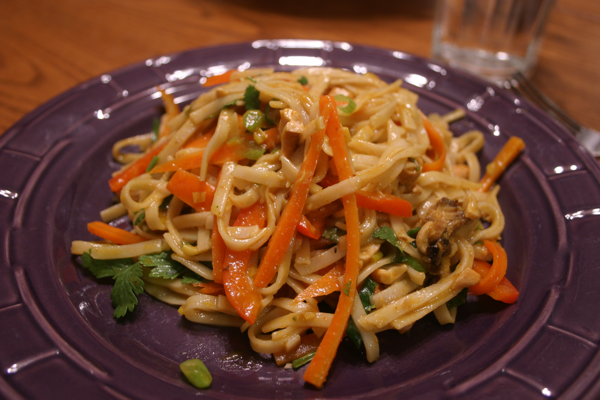 I think this recipe was a little bit of a stretch for my boys. Tyler informed me that there will be no more Meatless Mondays on his watch. (I think I will find something a little bit more tame for next week.) Although I enjoyed this recipe, it did not have the depth of flavor that I was expecting. It was good, but I was just expecting more out of it than I received.
To the recipes defense, I did not use as many mushrooms as the recipe called for because I bought all that the grocery store had and it was only about 2 cups. I think the addition of the extra mushrooms would definitely have helped, but I thought the sauce was sort of flat (which I was not expecting since it calls for red curry paste.) If you have not used red curry paste before, you have to know that it is spicy.  I think an addition of more soy sauce helps with the flavors and maybe if I had added a splash or two more than the recipe called for while my sauce was simmering it may have added more depth to the flavor. I also may increase the vegetable broth next time and forgo the water. Regardless, I did enjoy the noodles and will probably have them on occasion, but will definitely be tweaking the recipe a bit. I also think if you want to make it non-vegetarian some sautéed chicken would be a nice addition but would defeat my attempts at eating more meatless meals. 🙂 (If you decide to try the recipe, I would love to hear what additions you add or how you feel about the dish.)
Although I wasn't completely blown away with this recipe I did really enjoy working with some new items. I had never worked with lemon grass before and did really enjoy the flavor it added. (Be careful and be sure to discard the tough outer layer.) I also really enjoyed cooking with shitake mushrooms. They were delicious and as I mentioned above was slightly disappointed that my grocery store did not have enough in stock. The other new ingredient for me was udon noodles. I felt very adventurous and healthy cooking this meal. It was a stretch for my boys but I think it is good to have the kiddos try something out of their comfort zone. We have the one bite rule at our house. I think they even managed a couple of bites and I am ok with that. I just keep offering new things and they sometimes surprise me.
Curry-Spiced Noodles
Ingredients:
8 ounces dry udon noodles (thick, round Japanese wheat noodles) you can substitute spaghetti
4 teaspoons peanut oil, divided
2 cups julienne-cut carrot
3 cups julienne-cut red pepper (or combination of colors)
4 cups thinly sliced shitake mushroom caps (about 8 ounces)
3 tablespoons chopped peeled fresh lemongrass
1 tablespoon grated peeled fresh ginger
1 tablespoon red curry paste
2 teaspoons ground cumin
1 teaspoon ground turmeric
8 garlic cloves, minced
1 cup vegetable broth
1/2 cup water
2 teaspoons soy sauce
1/4 teaspoon kosher salt
3 green onions, thinly sliced
1/3 cup cilantro leaves
1/4 cup chopped dry-roasted cashews
Directions:
Cook noodles according to the package directions. Set aside; keep warm.
Heat a large nonstick skillet over medium-high heat. Add 2 teaspoons peanut oil to the pan; swirling the pan to coat the bottom with the oil. Add carrot to pan and saute for 2 minutes. Add peppers and saute for an additional 2 minutes. Remove carrot and pepper from the pan.
Heat the remaining 2 teaspoons of oil in the pan. Add mushrooms and saute for 2 minutes. Add lemongrass, ginger, red curry paste, cumin, turmeric, and garlic cooking for 1 minute, stirring constantly. Add broth, 1/2 cup water, soy sauce, and salt. Bring to a boil; cover, reduce heat, and simmer for 2 minutes or until slightly thick. Add noodles, carrot mixture, and green onions; cook for 2 minutes; tossing to combine. Divide the noodle mixture into bowls and top with cilantro and chopped cashews.
Adapted from Cooking Light January 2011