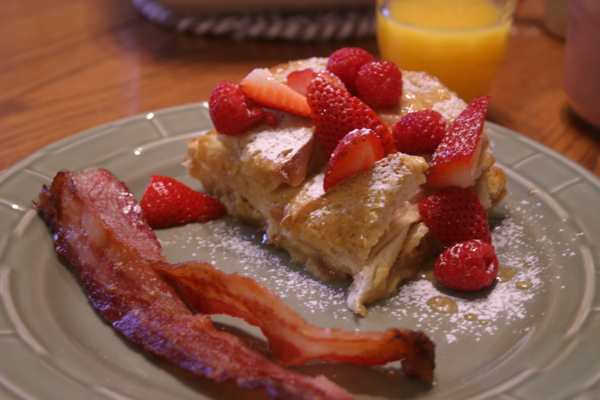 The other day, as I was helping out at William and Tyler's school, I ran into the librarian and she requested that french toast be featured on the blog. How could I say no to someone who works with 300 plus kids and has their names memorized with in the first couple weeks of school? Teachers work so hard and I don't think they receive the recognition that they deserve.  If I can help one by blogging about a requested recipe, you better believe I will do it.
This recipe is not a traditional french toast, but it was wonderful and my husband didn't have to man the griddle while the rest of the family enjoyed breakfast. Don't worry–I will be posting a "traditional" french toast soon–though for ease and pure yumminess this recipe is a keeper! If you love making egg casserole when company comes, you owe it to yourself to try this recipe. It was put together in less than 10 minutes and then baked in the morning and was ready in no time. I would say that I took advantage of the leisurely breakfast and got my shower while it was cooking, but I would be lying. I sat and enjoyed my coffee and the fellowship of my mother-in-law.
I don't think this recipe is going to win any awards on beauty in the pan, but once plated and topped with powered sugar, fresh fruit, and a drizzle of maple syrup it became a show stopper.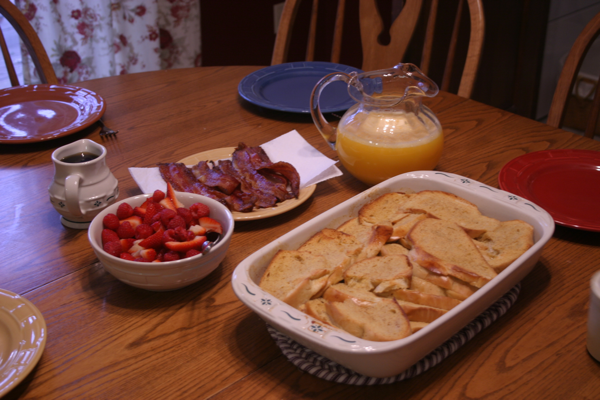 Creme Brulee Overnight French Toast
Serves 8
Ingredients:
4 tablespoons (1/2 stick) unsalted butter, melted
3/4 cup firmly packed light brown sugar
1 loaf challah bread, sliced 1 1/2 inches thick (about 1 1/2 pounds) You can substitute other breads but challah is my favorite for french toast.)
8 large eggs, lightly beaten (I used egg beaters.)
1 cup milk
1 tablespoon pure vanilla extract
1/2 teaspoon ground cinnamon
1/4 teaspoon ground ginger
Pinch of salt
powdered sugar, maple syrup, and berries for serving (or toppings of your choice)
Directions:
Combine the melted butter and brown sugar in a 9-by-13-inch baking dish spreading it to cover the bottom of the dish. Arrange the bread slices in the dish. (It's fine if they overlap.)
In a large bowl, whisk together the eggs, milk, vanilla, cinnamon, ginger and salt. Pour the mixture over the bread, and let it soak in. (I gently pressed the bread down to help saturate the bread.) Cover with plastic wrap, and refrigerate overnight.
Pull the casserole out of the refrigerator while the oven is preheating to 350 degrees. When the oven is ready, bake for 30-35 minutes. (It should be browned and set.) Let it cool slightly. Sift confectioners' sugar over the casserole, and serve it with maple syrup and fresh berries (if desired).
Adapted from Five Gables Inn
Featured on Sweets for Saturday at Sweet as Sugar Cookies.