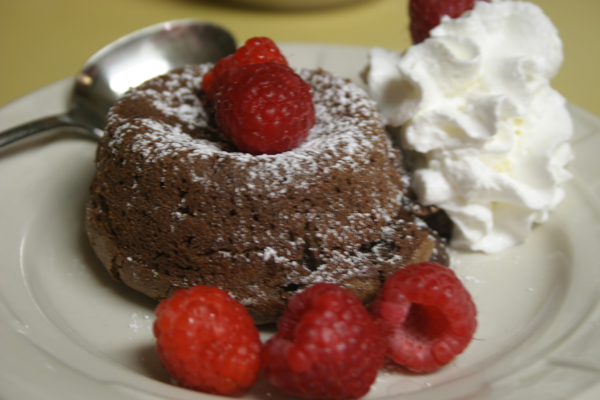 While I enjoy Valentine's day as much as the next person, I really believe that you should show the ones who are close to you that you love them on more than one special day.  I was telling Jeffrey that just the other day when he was worried that what he had done for me for Valentines wasn't enough.  I think we (Jeffrey and I) both do a good job of trying to do little things for each other all throughout the year.
With that in mind, I made these cakes for my boys on Valentine's Day (because they are one of Jeffrey's favorites). They would make a great dessert anytime. One thing I both love and hate about this recipe is the fact that it makes four servings. It is nice because it makes the perfect amount for my family. At the same time, I hate the fact that there aren't any leftovers for the fridge and the next day.
These lava cakes are such a special treat and while they look like they might be difficult to make they are quite easy to whip up. You will love them. When you cut into the cakes, the warm chocolate "lava" goes perfectly with the slightly crisp exterior of the cake. We topped our cakes some whipped cream, powdered sugar and raspberries (the raspberries were for Tyler and were my little gift to him). All I can say is "HEAVEN!"
Molten Chocolate Lava Cakes
Ingredients:
4 squares Baker's Semi-sweet baking chocolate
1 stick butter
1 cup powdered sugar
2 eggs (can substitute egg beaters)
2 egg yolks
6 tablespoons flour
Directions:
Preheat oven to 425 degrees. Butter four 3/4 cup ramekins (custard cups). Microwave chocolate and butter in a medium sized microwavable bowl on high for 1 minutes. Stir and repeat until butter is melted. Stir with a wire whisk until the chocolate is completely melted. Whisk in powdered sugar until well blended. Add eggs (or egg beaters) and egg yolks, whisking until combined. Stir in flour. Pour into prepared cups. Bake for 13 minutes. The sides will be firm but the centers will be soft. Let stand for one minute. Carefully run small knife around the edge of the cakes to loosen. Invert onto dessert dishes. Garnish with powdered sugar and whipped cream. Serve immediately.
*Batter may be made ahead, put in the cups, covered and refrigerated until ready to bake.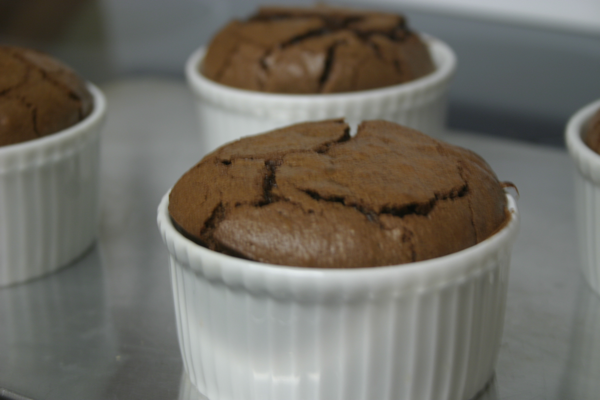 Featured on Sweets for Saturday at Sweet as Sugar Cookies.