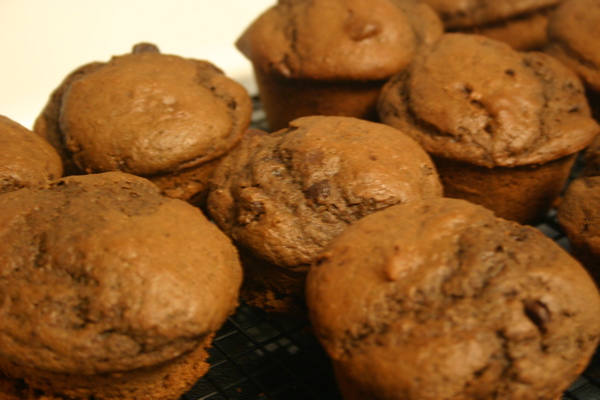 Chocolate muffins are a family favorite at our house. With the blizzard and no school, it has been the perfect time to break out some breakfast treats. Wednesday morning I was browsing through one of my favorite cookbooks looking for inspiration and Tyler sat down to join me. It did not take long before he decided that chocolate muffins should be the breakfast of choice. Who could argue? If you can call chocolate breakfast food, wouldn't you?
Fortunately, these come together very quickly and with only 20 minutes in the oven our breakfast was quickly on the table. I did not have quite enough buttermilk on hand so I substituted some plain yogurt mixed with milk to replace my missing buttermilk. The outcome was still delicious.
These muffins are delicious and they are not over the top sweet like some. I find that they are a perfect muffin. I also enjoy the fact that I can split them in half and then top them with some fruit preserves. My personal favorite is a strawberry, kiwi, cherry blend. It adds just the right amount of fruitiness to my muffin. The boys prefer to simply top theirs with butter, and that isn't a bad option either.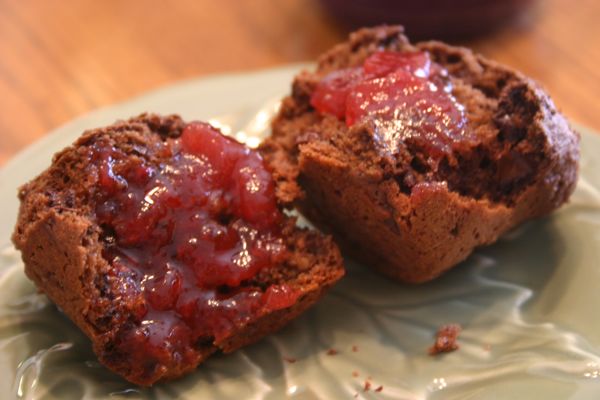 Chocolate Chocolate-Chip Muffins
Ingredients:
6 tablespoons unsalted butter
2 ounces bittersweet chocolate, coarsely chopped
2 cups flour
2/3 cup sugar
1/3 cup unsweetened cocoa powder
1 tablespoon baking powder
1/2 teaspoon baking soda
1/2 teaspoon salt
1 1/4 cups buttermilk
1 egg
1 teaspoon vanilla extract
1/4 – 1/2 cup chocolate chips
Directions:
Preheat oven to 375 degrees. Butter, spray with non-stick spray or line a regular muffin pan with paper cups. (My preferred method is spraying with non-stick spray.)
Melt butter and bittersweet chocolate in a microwave on high for about 1 minute stirring every 30 seconds until the mixture is melted.
In a large bowl, whisk together the flour, sugar, cocoa, baking powder, baking soda, and salt. In a large glass measuring cup, whisk the buttermilk, egg, and vanilla together until well combined. Pour the liquid ingredients and the melted butter mixture over the dry ingredients and gently stir to blend. (A few lumps are better than overmixing.) Stir in the chocolate chips. Divide the batter evenly among the 12 muffin cups.
Bake for about 20 minutes. Let muffins cool in the pan for about 5 minutes before serving.
Adapted from Dorie Greenspan's Baking from my home to yours