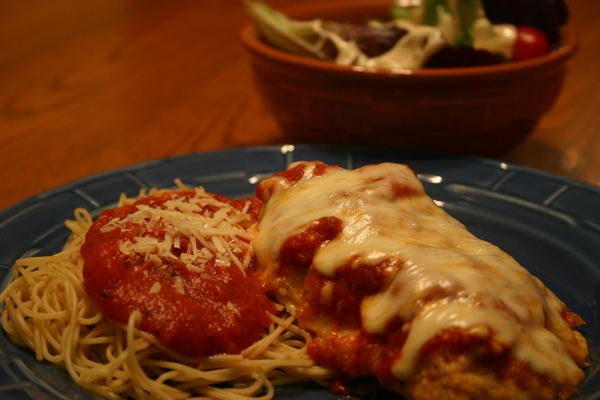 Today's post is dedicated to a special little man. This recipe is for my nephew Austin. A few years ago, I made this recipe while we were on vacation in Florida. Austin devoured his with gusto. He loves my Chicken Parmesan so much that when I was visiting him over Thanksgiving he asked when I was going to put it on my blog. Well here you go Austin. Now you can make mommy and daddy make it for you!
This is a super easy recipe and chances are you have most of the ingredients on hand. We have been hit by a blizzard (literally, over 12″ of snow plus really high winds) here in Kansas City, and after a lazy day of knitting and snuggling Nani as we watched the snow come down I had not made any headway on dinner. Fortunately, I keep frozen chicken breasts on hand as well as the other ingredients for this meal. I was so lazy, I didn't even defrost my chicken before a breaded it. I just breaded it and stuck it in the oven. Dinner was ready in less than an hour.
The meal tasted quite delicious on this cold evening. I had wanted something warm but wasn't quite in the mood for soup since we had that for lunch. Chicken Parmesan hit the spot and I was able to grant Austin's wish of putting "his favorite" on the blog.
Chicken Parmesan
4 boneless, skinless chicken breasts
1 cup Italian bread crumbs
1/4 cup shredded Parmesan cheese
1 egg
1/4 cup milk
jarred spaghetti sauce (or substitute your favorite homemade sauce)
shredded mozzarella cheese
olive oil
pasta of your choice (we love angel hair for this dish)
Preheat oven to 350° F.
Spray a 9″ x 13″ casserole dish with cooking spray. In a shallow bowl, beat milk and egg together to make an egg wash. In a separate shallow bowl, combine bread crumbs and Parmesan cheese. Dip each chicken breast in the egg wash and then the bread crumb mixture making sure the chicken is covered in the bread crumbs. Place the chicken in the greased casserole dish. Once you have all the chicken in the dish you can sprinkle any remaining bread crumbs over the chicken. Drizzle a small bit of olive oil over the chicken to help it brown as it cooks. (You can alternately pat each chicken with butter if you don't have olive oil.)
Bake until the chicken is cooked through (20-40 minutes depending on whether or not your chicken is frozen). While the chicken is cooking put some water on to boil to cook your pasta. When the chicken is cooked through (feel free to check it by cutting into the chicken) spoon a couple of tablespoons of the spaghetti sauce over the chicken then top with shredded mozzarella cheese. Stick the chicken back into the oven until the cheese is melted and slightly browned. Serve with pasta of your choice and the remaining spaghetti sauce. We like to round our meal out with fresh bread and a salad.
Super easy and delicious!