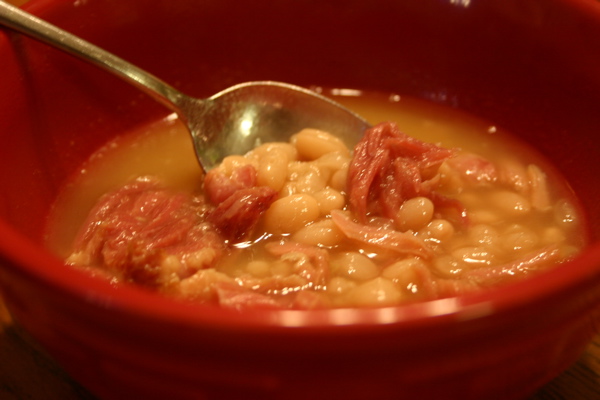 Several years ago as I was cleaning up from Christmas Eve dinner, I followed the suggestion of my mother-in-law and froze the ham bone from the ham we had just enjoyed. I had never done this before, but into the abyss of my chest freezer it went. I had hardly ever cooked with a ham bone, yet I decided it would be worth a try.
Fast forward to a couple of months after putting the ham bone in the freezer, and I received a flier with a coupon in the mail from Honey Baked Ham company advertising ham bones for bean soups. When I saw the flier for the ham bone, I remembered the bone that I had stashed away in the freezer, and I knew it was time to give cooking with my ham bone a try. The outcome was delicious. Now anytime we eat a ham (whether it is a Honey Baked ham or a cheaper variety I get at the grocery store or Costco) I always wrap and freeze the bone for future use.
I have learned that freezing the bone is a good way to get another meal out of the last scraps of meat left on the bone.  More than that, it keeps me from forking over a nice penny at Honey Baked Ham for one of their bones. If you can pay for something once and use it twice I am a fan! (For those that don't have a ham bone in the freezer you can buy ham bones at Honey Baked Ham and even buying the bone from them you will still have a very economical meal because honestly beans are really cheap and filling.)
Fortunately, last week when the frigid temperatures outside called for a warm homey meal, I had a bone in the freezer from Thanksgiving. White bean soup was a go. (I don't like to get out when there is snow on the roads so cooking from my freezer/pantry was a plus.) The recipe is super easy and once you have the beans on the stove simmering there really isn't much work. I served mine with cornbread, but a salad would have made a nice addition.
My children loved them. Tyler preferred his beans without the chunks of ham (and tons of black pepper) so I graciously fished the ham out of his bowl and added it to mine.
White Bean Soup
Ingredients:
1 pound dried navy beans (I do the quick soak method on the bag but you can soak them overnight as well).
1/2 – 1 cup onion, chopped
olive oil
ham bone
1 quart chicken broth
water
Directions:
Soak beans using either overnight or quick soak method.
Quick soak for beans: Rinse and sort beans (remove any rocks or weird looking beans) in a large pot. Add 6-8 cups of hot water. Bring to a rapid boil; boil for 2 minutes. Remove from heat. Cover and let stand 1 hour. Drain and rinse beans.
Overnight soak: Rinse and sort beans in a large pot. Add 6-8 cups of cold water. Let stand overnight or at least 6-8 hours. Drain and rinse beans.
After soaking the beans, rinse and drain them.  Then, in your stock pot, add some olive oil (1-2 tblsp.) and saute your onion. When the onion is getting soft add your beans back to the pot and add you chicken broth, about 2 cups of water and your ham bone.  I didn't add any other seasoning but feel free to add for your taste.  Now all I did was simmer it for 4-5 hours.  Before serving, remove the ham bone and shred any meat and add back into the soup. Serve with cornbread or corn muffins.