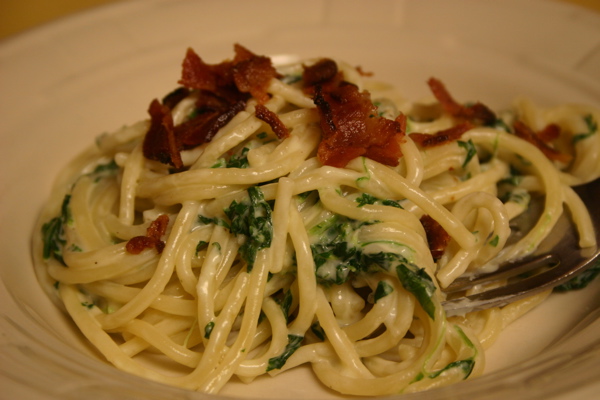 I have been trying to incorporate more greens into our diet this year and spinach is an easy ingredient for me to add that the boys don't seem to mind. This pasta is wonderful and although it looks sinful with the creamy sauce–it is actually a Cooking Light recipe so it has cut quite a bit of the fat and calories when compared to the original. I love the creaminess and actually love the addition of spinach to the pasta.
This pasta comes together quite easily and pairs nicely with a tossed salad and fresh bread. I say that, but in reality we just ate the pasta and it was wonderful all on its own. We had plenty of leftovers and I enjoyed a bowl of pasta for lunch today. The pasta absorbs the sauce but it was still yummy and I didn't have to make something from scratch for lunch which is always a bonus.
On a completely unrelated note…we have a new addition to the family! We brought home a beautiful boxer girl on Saturday. So far the kitchen is not her favorite place but I keep telling her that we are a foodie family and she needs to learn to love the kitchen because we will be spending lots of time in there. She is getting better and has even managed to stay in the kitchen even while the coffee maker was grinding the beans for our coffee. I look forward to sharing many Nani stories with you in the future. If you are thinking of getting a pet, I strongly suggest going through a rescue. These animals are in need of your love. I will tell you it is work, but as Nani is becoming more and more confident it is soooooo rewarding.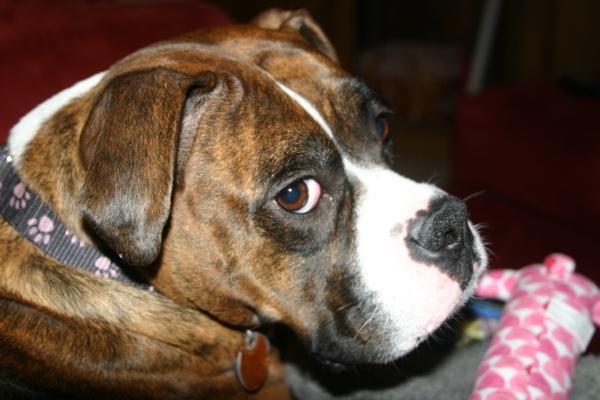 Spinach Fettucine
Ingredients:
1 pound uncooked fettuccine (or pasta of your choice, spaghetti was what I had on hand)
1 tablespoon butter
1 garlic clove, minced
1/2 cup (4 ounces) 1/3-less-fat cream cheese
3/4 cup chicken broth
3 tablespoons all-purpose flour
3/4 cup grated fresh parmesan cheese
3/4 cup half-and-half
1 teaspoon salt
1/2 teaspoon freshly ground black pepper
1 (10-ounce) package frozen chopped spinach, thawed, drained, and squeezed dry
8-10 center-cut bacon slices, cooked and crumbled (I normally use 1 strip of bacon per serving.)
Directions:
Cook pasta according to package instructions. Once it is cooked drain pasta and set aside, reserving 1/2 cup pasta water.
Melt butter in a large skillet over medium-high heat. Add garlic; sauté 30 seconds. Add reserved pasta water and cream cheese, stirring with a whisk until smooth.
Combine chicken broth and flour in a small bowl, stirring with a whisk until smooth. Add flour mixture to skillet, stirring with a whisk to combine; bring to a boil. Cook 2 minutes or until mixture thickens, stirring constantly. Turn off the heat but leave skillet on the warm eye; add parmesan, stirring until smooth. Add half-and-half, salt, and pepper. Stir in spinach. Combine cheese mixture and pasta in a large bowl, tossing to coat. When ready to serve; top each serving with desired amount of bacon.
Adapted from Cooking Light