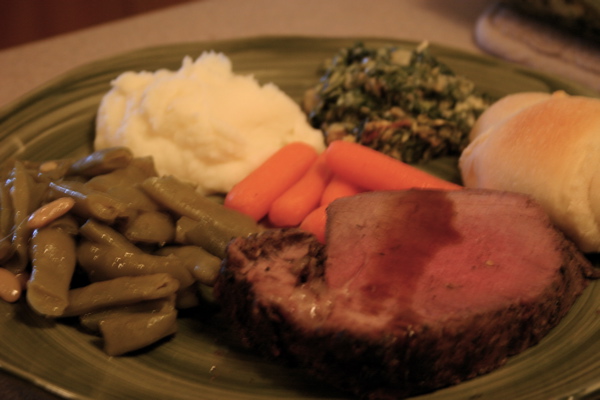 We have arrived safely back in Kansas City; the stomach bug has left (we hope), and we are relaxing for a couple of days before our hectic lives return. Hopefully, we have taken care of the hackers (my husband calls them script-kiddies) that have caused me more frustration than I care to admit. I was struggling to stay disciplined in writing while out of town and the site defacements only added to my frustration. I am back though. I am very excited about the upcoming year and received a new cookbook that has lots of new recipes for me to try and blog about. You are in for a treat.
Today's recipe was the centerpiece of our Christmas dinner. It was fabulous! The recipe is one I inherited from my mother and is tried and true. We had it on more than one special occasion while growing up, and I always loved it. Tyler, the pepper-aholic of my family, chose the end piece because of its super-abundance of pepper (crazy kid wanted more). He was not disappointed and neither will you be. The recipe makes a great centerpiece for your meal, but it would also make great treats for a party. If you are using it for a party, you can thinly slice the meat and serve it with hard rolls to make small sandwiches. Your friends will be very happy. No matter how you eat it, your stomach will be thanking you. The tenderloin is so tender it almost melts in your mouth and the peppery rub adds the perfect bite.
Pepper-Crusted Beef Tenderloin
1 beef tenderloin (I buy an untrimmed one at Costco and trim it myself to save money.)
Rub ingredients:
1 tablespoon salt
1 teaspoon black pepper
1 tablespoon lemon pepper
1/2 teaspoon garlic powder
1/2 teaspoon onion powder
1 teaspoon dried parsley flakes
1/2 teaspoon italian seasoning
1/4 teaspoon celery seed
Combine all rub ingredients together and rub over the meat. If you have a large beef tenderloin, you may want to double the seasoning to get a good coating. Place the beef coated in rub in a large roasting pan. (I like to have my beef sit out while the oven heats up to insure a more even cooking.)
Heat oven to 500° F. When the oven is hot, place the meat in the oven and cook for 15 minutes. Remove from oven. Turn filet over and return to oven, reducing heat to 350° F, and cook for another 15 minutes. Turn meat over and cook an additional 15 minutes. Use a meat thermometer to determine who thoroughly the meat has been cooked. (I prefere a nice medium rare–about 160° F–You may wish to remove the beef a little before it hits 160 as the meat will continue to cook while it rests.) Remove from oven and let rest for 10 minutes before slicing. Once the meat is removed from the oven it will continue to cook so be careful not to overcook it. The drippings in the pan make a delicious au jus to serve over the meat.