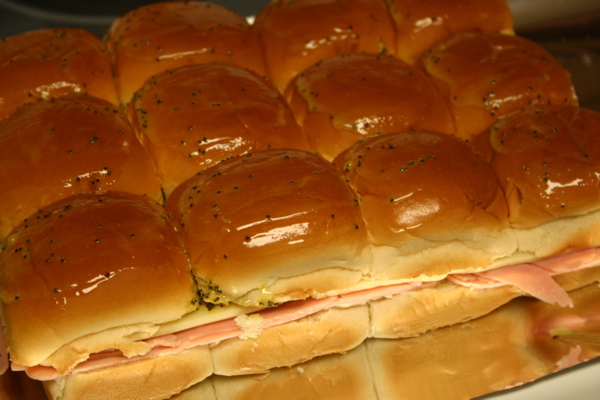 We are delighting in the beautiful scenery of Colorado and snacking on lots of wonderful goodies that were put together over the last few weeks. One of the treats we are enjoying are these delicious sandwiches.  In the planning stage of our vacation, we wanted to have some fun foods that would make it feel like Christmas even though we are away from our home.  We brought decorations, family favorite goodies, and indulgent yummies like these sandwiches.  These were a perfect choice.  I was able to make them prior to our leaving and then freeze them so they would be ready when needed, but without any of the fuss of bringing extra ingredients or having to spend extra time in the kitchen when we could be enjoying the surroundings and time together.
While I spent several hours in the kitchen back at home, I am benefiting from my labors now.  These sandwiches are a great treat and even the non-ham fans are enjoying them.  If you are looking for a fun lunch or appetizer for a party, this one is a keeper.  YUMMY!  The mustard poppy seed sauce really pulls the sandwich together and the warm gooey cheese just puts it over the top.  What are some of your favorites to have on hand when company is coming?
Ham Delights
Ingredients
2 packs party rolls or small dinner rolls
2 sticks butter
3 tablespoons mustard
3 tablespoons poppy seeds
2 teaspoons onion flakes
1 teaspoon Worcestershire sauce
1/2 lb. thinly sliced ham
1/2 lb. thinly sliced swiss cheese
Directions
In a small saucepan melt butter then add mustard, poppy seeds, onion flakes, and Worcestershire sauce. Stir or whisk to combine the sauce. Cut rolls open but do not separate them from each other. Brush or spoon the sauce on the inside of the top half of the buns. Place ham and cheese on the bottom half of the buns. Place the halves together. (I will rub the tops of the buns with any sauce they may have escaped in the process of putting the sandwiches together.) Wrap the sandwiches in aluminum foil and bake at 400 degrees for 20 minutes. Remove aluminum foil and cut apart and serve immediately.
*These can be made in advance and frozen.