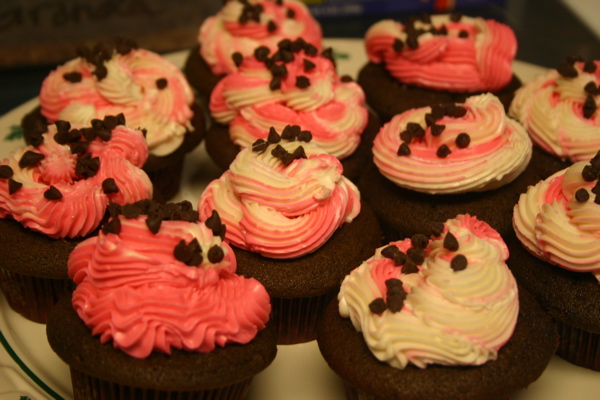 I love peppermint and chocolate.  One of my weaknesses is the peppermint bark at Williams-Sonoma as well as their peppermint hot chocolate.  Delicious!  I am also a big sucker for Peppermint Mochas at Starbucks during the holidays.  When I came across the recipe for peppermint mocha cupcakes, I knew I had to try making them.  All I needed was an excuse to add them to my already very long to-do list. I found one.  It wasn't that hard.  It seems especially easy to find an excuse when you really want to make something.
Sunday evening I made the cupcakes with Jeffrey as my sous-chef.  I despise taking cupcakes out of the pans if the lip of the cupcake goes over the edge.  When these cupcakes did go over the edge, I delegated the task of taking them out of the pan to Jeffrey.  I really have no patience for things like this.  Thankfully, Jeffrey's perfectionism comes in handy in these kinds of situations.  I just try not to watch him and make fun of the funny faces he makes when he concentrates.
The cupcakes sat on the counter overnight with the exception of the one Jeffrey said "malfunctioned" during the removal process.  This "malfunctioning" cupcake was promptly devoured by him.  Monday afternoon, I made the frosting.  I had never made a frosting like this one and was a little concerned at times.  My advice is keep beating the mixture.  It does come together even though at times it looks more like a curdled mess.  Just keep beating it until it is smooth.
The outcome…yummy!  I will be honest though–if you don't like peppermint you will not like this recipe.  To me it tastes like a yummy cupcake covered with butter cream mints.  (Not the chalky gross ones but the delicious, pretty ones you can find at weddings.)
Peppermint Mocha Cupcakes
Ingredients:
For the cupcakes:
2 2/3 cups all-purpose flour
2/3 cup unsweetened cocoa powder
2-3 tsp. espresso powder
2 tsp. baking powder
1 tsp. baking soda
½ tsp. salt
1 cup whole milk
1 cup strong brewed coffee (I used a Starbucks Via)
1 tsp. peppermint extract
1 cup (2 sticks) unsalted butter, at room temperature
1 cup granulated sugar
1 cup light brown sugar
2 large eggs
For the frosting:
6 large egg whites (you can buy a carton of just whites in the egg department of the grocery store)
1¾ plus 2 tbsp. granulated sugar
1½ cups (3 sticks) unsalted butter, at room temperature
4 tsp. peppermint extract
2 tsp. vanilla extract
mini chocolate chips for garnish
Directions:
Preheat your oven to 350°. Put paper liners in two cupcake pans (you will have 24 cupcakes total). In a medium sized bowl, combine the flour, cocoa powder, espresso powder, baking powder, baking soda and salt; stir together with a whisk to combine and get rid of any lumps. Combine the milk, coffee and peppermint extract in a 2-cup measuring cup.
In the bowl of a stand mixer, cream the butter and sugars. Beat the mixture on medium-high speed until light and fluffy, probably 2 or 3 minutes, scraping down the sides of the bowl as needed. Add in the eggs one at a time to the mixer beating until combine. Alternately mix in the dry and liquid ingredients, beginning and ending with the dry ingredients and mixing just until incorporated.
Divide the batter evenly between the prepared cupcake liners. (I like to use a large scoop for this.) Bake 18-20 minutes, or until a toothpick inserted in the center comes out clean. Let cool in the pan 5-10 minutes, then transfer to a wire rack to cool completely.
To make the frosting, combine the egg whites and sugar in a double boiler or heatproof bowl set over a pot of simmering water. Heat, whisking frequently, until the mixture reaches 160° F and the sugar dissolves. Transfer the mixture to the bowl of a stand mixer and beat with the whisk attachment at a medium to high speed until stiff peaks form and your mixture has cooled to room temperature, 8 -10 minutes. Reduce the speed to medium and add the butter, 2 tablespoons at a time, adding more once each addition has been incorporated to your icing. If the frosting looks soupy or curdled don't panic, continue to beat on medium-high speed until the mixture is smooth again, about 3-5 minutes more. (My advice is just keep beating until it comes together. Mine was fine most of the way through the process and then started looking curdled. Just keep beating and scraping down the sides. It will come together!) Stir in the peppermint and vanilla extracts and mix just until incorporated.
The swirled effect came from filling my pastry bag with one side red tinted frosting and the other with white. Pipe a test streak until you see both colors coming out of the tip. Frost cupcakes as desired, refilling the pastry bag in the same manner as needed. This frosting is very rich, so you do not have to have a ton of frosting on the cupcakes. It is actually better to have thinner layer than a big mountain in my opinion and I really like frosting.