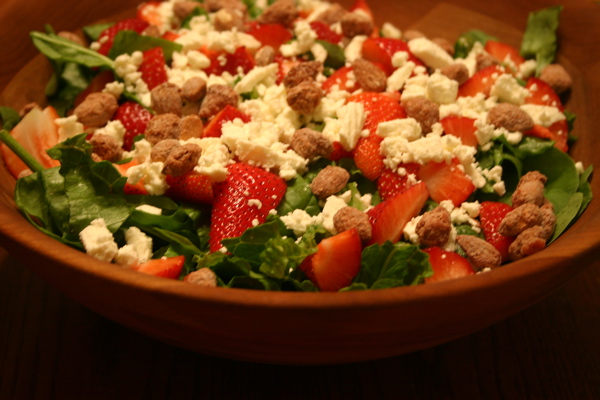 I don't know about you, but we are exploding with goodies and holiday munchies around the house. All of the indulgences makes me more conscious about trying to eat my veggies. One way that I have found that I can even get my non-salad eating husband to eat salad is by serving one that is so delicious you can't resist it. Whenever I top a salad with homemade raspberry vinaigrette I can be sure he will eat his greens.
This dressing is very versatile. I almost always prefer to have some sort of fruit in the salad. I have adapted this and serve it throughout the year for events that I cater. People rave and rave about my salad. I have even had people tell me that having my salad for lunch made their entire day. It is delicious.
I almost always start with baby mixed greens because I love the variety and the different textures. You can add quartered or sliced strawberries. I have also found that when in season I love fresh pears and dried cranberries in the salad. Add either feta or crumbled blue cheese and sliced almonds or candied pecans. For those who enjoy a little bit of spice some thinly sliced red onion is always a nice addition. The options are endless. If you like pomegranate seeds they would also make an excellent addition. I would love to hear what you try. I promise that the vinaigrette will make a welcomed addition to your holiday meals. I know it is on the menu for ours.
Raspberry Vinaigrette
(can be easily halved)
1 cup canola oil
1/2-3/4cup sugar
½ cup raspberry vinegar (I use Colavita.)
2 cloves garlic, minced
salt and pepper to taste
Combine oil, sugar, raspberry vinegar and garlic together in a quart size jar. Shake vigorously until sugar dissolves. Add salt and pepper to taste. Toss on salad right before serving or serve on the side. Unused vinaigrette can be refrigerated for up to 2 weeks.