In case you haven't noticed yet,  I love cream and butter.  The more and more I read about food and the things we put in our bodies the more I cling to the "real" stuff.  I don't just sit down and eat a stick of butter or drink a gallon of cream, but I much prefer these more natural ingredients over  something that has been engineered in a laboratory.  Even though I love the "real stuff"  I am definitely a proponent of eating them in moderation.  At our house we are trying to incorporate more and more vegetarian meals as well as trying to eat from local sources.  It just makes sense to me.
When I was trying to figure out what we would have for dinner the other night, I was thinking of the leftovers that we had brought home with us.  (Every time I travel to Tennessee I always take a large freezer bag with me because I never know what I will be bringing home.  Thanks for all the good stuff dad!)  Of course, importing food from Tennessee flies in the face of my desire to "eat local."  If I am already traveling though, I might as well bring home the good stuff.  In our leftovers, we had some Honey Baked Ham in the fridge and though it is delicious on sandwiches I was tiring of eating it on sandwiches or as the main protein.  To mix things up, I decided to create my own recipe for "straw and hay."  If you have never had straw and hay, it is delicious and a great way to use up some leftover ham.  William even had seconds of it, and he is normally not a huge fan of peas.  Both boys gobbled down their food and we all left the table satisfied.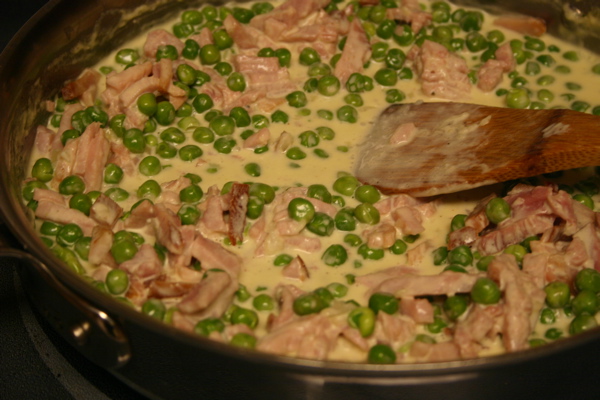 Straw and Hay
Ingredients:
1 pound fettuccine noodles (If you can find spinach noodles use half spinach and half plain.)
2 tablespoons olive oil
1/4 cup finely chopped onion
2 cloves garlic, minced
1 1/2 cups heavy cream
1 pound frozen peas
1/2 cup grated Parmesan cheese
1 – 1 1/2 cups finely chopped ham
salt and pepper to taste
Directions:
Bring a large pot of water to a boil and cook noodles according to directions. Drain and set aside keeping them covered. Put olive oil in a large saute pan (or large skillet) and heat over medium. Add the onion and cook until the onion is tender. Add the garlic and cook for just a few seconds until it is fragrant. Add cream and stir. Once the cream warms up a bit add in your peas. Stirring occasionally, let the mixture come back up to temperature. Once it has become foamy turn the temperature down and cover it. Cook until the peas are soft and tender (about 8 minutes), but be sure that you are checking and stirring them regularly. Once they are tender add in 1/4 cup of Parmesan cheese and stir to combine. Add your chopped ham stirring until it has heated through. Add salt and pepper to taste. Pour mixture over the noodles, tossing to coat. Sprinkle with remaining 1/4 cup of Parmesan.