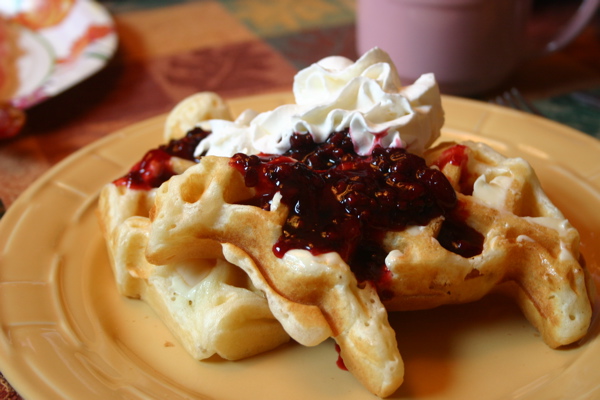 Every time I visit my dad, I make homemade waffles one morning during the stay. This tradition has caught on quickly with the children around and they have come to expect it.  My mother always preferred waffles over pancakes, and one year for Christmas we purchased them a new waffle iron.  What made the new waffle iron so perfect was that the waffles were shaped like things you would find at a farm. (We purchased the waffle iron at Williams Sonoma.  Sadly the waffle iron isn't available any more.) The waffle maker makes four differently shaped waffles: a cow, a pig, a chicken and a barn. So the last Christmas that my mom was alive she and my dad received this waffle iron as a gift from Jeffrey and me. I thought it would make a great treat for when the grandkids were visiting. Unfortunately, my mom wasn't able to use it as much as I would have liked, but she did get to enjoy it a couple of times. I, however, always make sure to make waffles for my boys, my niece and my nephew.
This past visit, my nephew was eagerly anticipating the waffles, and my niece actually inhaled three of them (I am not sure where she put them because she is tiny.) We had a great breakfast! I used some leftover blackberries and found a handful of unused cranberries that I put together for a sauce and it was a perfect combination. Did I mention whipped cream is an excellent topper along with a drizzle of maple syrup? Well, It is! I always look forward to waffles and the special treat of the farm animals and barn shapes only makes them more delicious when visiting my dad.  Since my dad raises cattle, the cows seem to go first with all of his grandkids who imagine themselves to be cattle farmers too.
What are some traditions that you have? As Christmas is quickly approaching I become more and more nostalgic. I just hope I have enough time to share several of our goodies. If not, there is always next year to look forward too.
Homemade Waffles with Cran-Blackberry Sauce
Our Favorite Waffles
Ingredients:
1 ¾ cups all-purpose flour
1 tablespoon baking powder
1/4 teaspoon salt
2 egg yolks, beaten
1 ¾ cups milk
1/2 cup cooking oil
2 egg whites
Directions:
Heat waffle iron.
Beat egg whites until stiff peaks form and set aside.
Combine dry ingredients in a medium bowl. Beat in egg yolks. Add milk and oil and stir until just moistened. Batter should be lumpy. Gently fold in egg whites leaving a few puffs of egg white. Put batter in your waffle iron and cook according to manufacturer's directions.
Adapted from Better Homes and Gardens Cookbook
Cran-Blackberry Sauce
Ingredients:
1 cup fresh or frozen cranberries
1 1/2 cups blackberries
3/4 cup sugar
¼ tsp. salt
¼ tsp. allspice
2 tsp. cornstarch
2 tbsp. water
Directions:
Place cranberries in a medium saucepan. Add just enough water to cover the bottom on the pan but not cover the cranberries. Heat over medium-high heat until the berries begin to burst. Cook a few minutes more, until most of the cranberries have burst and the water is now red from the juice. Gently stir in the blackberries, sugar, salt and allspice. In a small bowl, combine the cornstarch and water and whisk together until smooth. Add the mixture to the pan with the berries and stir to incorporate. Bring the mixture to a boil, then reduce the heat to medium and cook until the sauce has thickened. Depending on how smooth you want your sauce you could puree the mixture or just stir to break up some of the berries to leave it more chunky. Remove from the heat and allow the mixture to cool. The sauce will continue to thicken as it cools. Refrigerate in an airtight container until ready to serve.