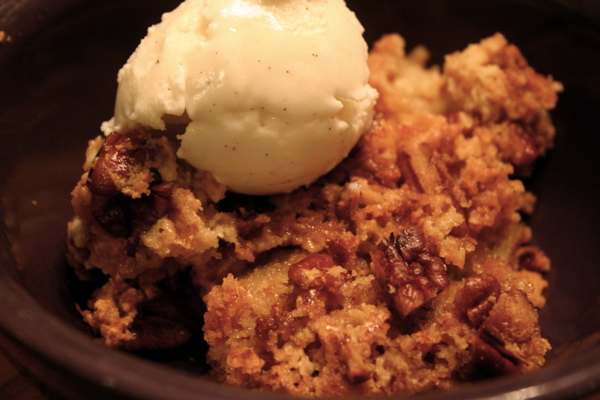 Thanksgiving is quickly approaching and I am definitely ready for the feast to come. In case you are wondering why I have not been blogging about all the prep and planning that I am doing, it is because I am not doing any this year! We will be visiting my dad, brother, sister-in-law, niece and nephew in Tennessee for Thanksgiving. It doesn't mean that I am off the hook for preparing Thanksgiving,  it just means that I won't have the luxury of planning and preparation at my own home.
My dad is quite the cook. (He makes lots of yummy things!) Even if we had an entire meal planned, he always finds something else that we need to add to the table.  When he is around, whatever planning has been done is just the starting point. I am looking forward to the chaos and yumminess that will come out of his kitchen this year.
I will probably pack up a few goodies to share while we are in Tennessee, but I guess my lack of planning shows that I share more in common with my father's meal planning than I like to admit. I do know that I will be making personally sized pecan pies as they are my brother's favorite. I will be sure to share whatever goodies I make so that you will be able to share them after Thanksgiving if not before.
I did feel the need to make Pumpkin Pie Crunch for dessert on Tuesday evening. My mother started making this dessert for the holidays when I was in college, and I quickly fell in love with it. It is super easy to put together and a very delicious treat. Although it is probably not going to win any awards for its appearance, it will for its taste!
Pumpkin Pie Crunch
Ingredients:
1 package yellow cake mix (I use Duncan Hines Butter Recipe.)
1 16 oz. can pumpkin
1 12 oz. can evaporated milk
3 eggs
1 1/2 cup sugar
2 teaspoons cinnamon
1 teaspoon ginger
1 teaspoon all-spice
1/2 teaspoon nutmeg
1/2 teaspoon salt
1 cup chopped pecans
1 cup butter, melted
whipped cream or vanilla ice cream for topping
Directions:
Preheat oven to 350 degrees. Spray the bottom of a 9X13 pan with cooking spray.
Combine pumpkin, evaporated milk, eggs, sugar, spices, and salt in a large bowl. Pour into prepared pan. Sprinkle the dry cake mix evenly over the pumpkin mixture. Top with pecans. Drizzle butter over the pecans and cake mix. Bake for 50-55 minutes or until golden brown. Cool completely. Serve with whipped cream. Refrigerate any leftovers.