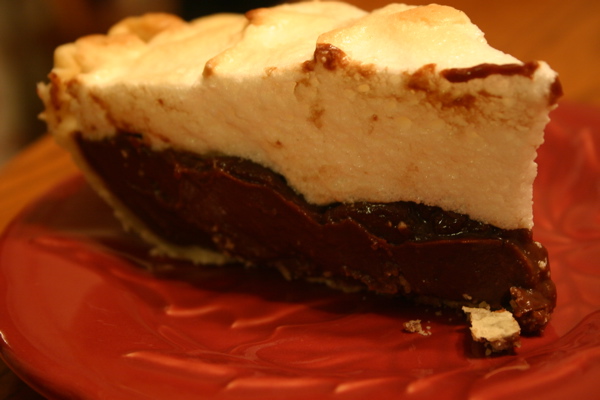 On Wednesday, we were invited to dinner with some of our dear friends. We have been friends with them for almost 11 years. It is always fun to get together, and most of the time our children play together nicely. Regardless of who is hosting both parties contribute to the meal.
My friend is an excellent cook, and because she did not grow up in the South as I did she has introduced us to different cuisines. One of the great things about meeting people from different areas is learning about the cultures that shaped them.  I also believe that a great way to experience different cultures is to eat their cuisine.  It seems like each culture and every person has a unique relationship with food. I love experiencing new and different cuisines.
My friend prepared a wonderful vegetarian meal for us with an Indian flare. It was delicious. I was also happy because since we were eating vegetarian I didn't have to feel guilty for the pie I had brought for dessert. I had talked briefly Wednesday morning with Jeffrey about what I should take for dessert. He answered quickly and emphatically with "PIE!" We easily agreed on this chocolate pie and it came together quickly in the afternoon with time to chill before dinner.
I'm not a huge meringue fan, though in the case of this desert, I really do enjoy the meringue on this chocolate pie.  This recipe for meringue is quite delicious and foolproof. My boys like to call it the marshmallow topping. I have to agree that it is quite delicious and tasty and could very easily be described in a marshmallow-like manner.
I am not including a pie crust recipe this time because honestly when you are short on time (and the filling is going to be this delicious) go ahead and save time and use the pre-made dough that you roll out. We were not complaining about my pre-made dough as our forks sliced through the meringue and into the creamy chocolate filling.  In the words of Jeffrey, "I hope this is what heaven tastes like."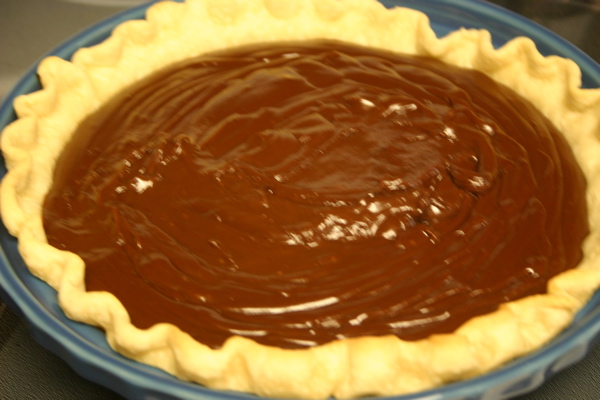 Decadent Chocolate Pudding Pie
Ingredients:
1/2 cup (1 stick) unsalted butter
3 ounces bittersweet chocolate (I use Baker's.)
1 cup sugar
3 tablespoons cornstarch
3 tablespoons cocoa powder
1 (12-ounce) can evaporated milk
1/2 cup (about) milk
3 egg yolks, beaten
1 teaspoon vanilla extract
1 baked (9-inch) pie shell
Foolproof Meringue (recipe below)
Directions:
Melt butter and chocolate in a medium-sized saucepan. Mix the sugar, cornstarch, and cocoa powder together in a small bowl. Add the sugar mixture to the melted butter and chocolate and blend well. Pour the evaporated milk into a 2-cup measuring cup adding enough milk to measure 2 cups. (It should be about 1/2 cup.) Add milk mixture to chocolate mixture and stir until well combined. Take a small amount of the chocolate mixture and add it to your beaten egg yolks to temper (or bring them to the same temperature) as your chocolate mixture. Stir the tempered yolks into the chocolate mixture. Add the vanilla. Cook until thickened, stirring constantly. Pour into the cooked pie shell. Top with Foolproof Meringue over the filling making sure it goes all the way to the edge to seal the pie. Bake at 450 degrees for 5 minutes or until golden brown. Chill, covered in the refrigerator.
Foolproof Meringue
Ingredients:
6 tablespoons sugar
1 tablespoon cornstarch
1/2 cup water
1/2 teaspoon vanilla
3 egg whites
salt to taste
Directions:
Combine the sugar, cornstarch, and water in a small saucepan. Cook for 5 minutes or until chear and thickened, stirring constantly. Cool slightly. Add the vanilla and stir until combined. Beat the egg whites and a pinch of salt with an electric mixer until soft peaks form. Gradually pour in the syrup mixture into the egg whites with the mixer going. Continue to beat until stiff peaks form.
*Always put meringue on a warm filling.
Adapted from Fresh from the Pantry.