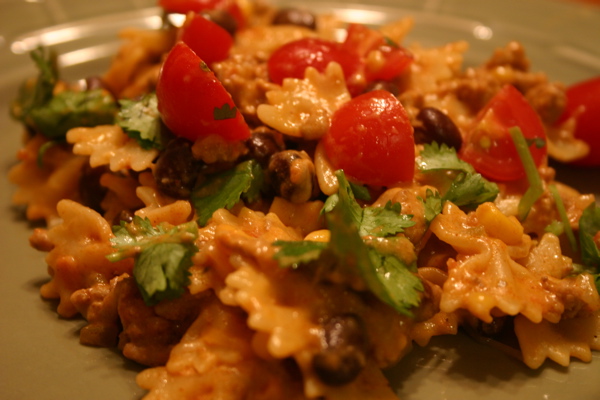 Today's pasta dish is a twist on one of our favorite chicken pasta dishes with picante. I was looking for something that would be easy, satisfying and something that everyone in the family would enjoy. I think this one took care of all three. While it was not my children's favorite meal, they both agreed that we could have it again though they didn't want it every week.
We are still getting back into the swing of things after a quick trip to Nashville over the weekend. (Is it just me or does laundry double when you are on a trip?) I don't know about you but after a road trip we are always ready for some home cooking. (We had some amazing food on our trip, but for a family that doesn't eat out much, the 9 hour trip meant eating fast food.  After eating in the car, I am ready to sit down and eat "real food.")
This Mexican pasta can easily be adapted to your own personal preferences.  Don't like tomatoes?  Leave them out.  No cilantro on hand?  No problem!  I originally had just the meat in the creamy sauce, but then thought about adding black beans. After I threw in the beans I decided some corn might be a nice addition. The add ins are endless so use your imagination. I would love to hear what you add.  What do you think we should add or leave out?
Creamy Mexican Pasta
Ingredients:
8 oz. mini bow-tie pasta (or shape of your choice)
1 1/4 lbs. ground turkey or beef
1/4 cup chopped onion
2 cloves garlic, minced
1 tablespoon chili powder
1 teaspoon cumin
1 teaspoon oregano
1/4 teaspoon pepper
1 1/2 cups salsa or picante sauce
1/3 cup cream cheese
1/2 cup sour cream
1 can black beans, rinsed and drained
1 cup frozen corn
1 cup shredded mexican blend cheese
Directions:
Bring a large pot of water to a boil and cook pasta according to package directions. When the pasta is finished drain, reserving 1/2 cup of liquid to thin your sauce if needed, and set aside.
While the pasta is cooking, cook the turkey and onion in a large skillet over medium high heat. As the meat cooks it will release some of its liquid. Cook the meat until it is cooked through and the liquid is evaporated. Add the garlic, chili powder, cumin, oregano, and pepper stirring until the meat is coated and the seasoning is fragrant. Add the salsa. Add the cream cheese and sour cream and stir until the cream cheese is melted and the mixture is combined. Add the beans and corn, stirring until the beans and corn are heated through.
Combine the pasta with your meat mixture and stir gently to combine. Add 1 cup of cheese and stir to combine. If you feel the mixture is too thick add some of your reserved pasta water until you get the desired consistency. Top with chopped fresh tomatoes and cilantro.