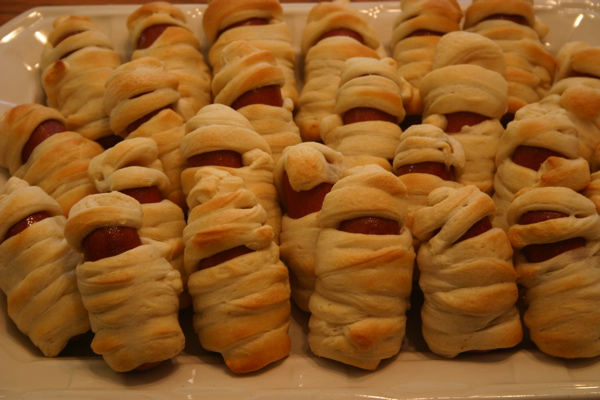 Mummy Dogs are another one of our Halloween traditions. They are a simple appetizer and kid approved addition to any Halloween get-together.
For the past few years, we  have hosted a chili supper with friends before going out to go trick-or-treating with the kids. It is a fun time and a tradition to which we look forward and enjoy. Everyone brings something to add to the party. I normally make a big pot of chili (recipe to come shortly) and these fun mummy dogs. Although hot dogs are not a staple at our house (much to Tyler's dismay), these treats are  great on occasion. Not only are these treats tasty, they are also so cute and they match well with a Halloween theme. On the plus side, you can almost guarantee that the kids will have something other than candy in their tummies when these are offered.
Mummy Dogs
Ingredients:
2 tubes of crescent rolls
1 1/2 packages hot dogs (I like to use Coleman Natural uncured beef hot dogs.)
Directions:
Roll out the crescent rolls into a rectangle. Press all of the seams together to form one large rectangle. Take a pizza cutter and cut 1/4 inch wide strips long ways on the dough. Cut your hot dogs in half. Now taking a strip of the crescent dough start at the bottom and wrap up the hot dog leaving an opening for the face of your mummy but then continuing to cover the entire top of the head. You may cut and trim the dough to fit your mummy. (I find that it is easier for me to use a long strip and then add an additional half of a strip to complete the mummy.) After you have bandaged all the mummies bake in a 375 degree oven for 10-15 minutes until golden brown.