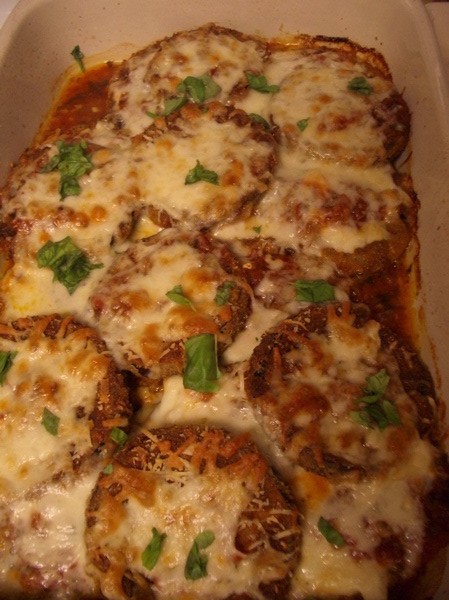 At the end of October I always start craving eggplant parmesan. I think it is a mental issue, but it has become somewhat of a custom at our house. When I was counting the days to the arrival of William, my father-in-law saw a segment on Good Morning America about a restaurant in Atlanta. The restaurant Scilini's was suppose to have this Eggplant Parmesan that would induce labor. (There website even includes Eggplant Parmesan babies who have been born withing 48 hours of eating this dish.) During the show, they shared their recipe.
After hearing about this dish, we decided to try it to see if it would move things along. (On a personal note:  I'm not the most patient person and neither is Jeffrey.  We really were ready, at least we thought we were, for our child to be born.  On top of that, I already had an induction scheduled for Monday so that weekend we made the eggplant.)  I'm not sure how the dish did in terms of helping to speed the delivery, but I didn't care as I was eating it. It was delicious.
I have adapted my recipe from the Scilini's recipe and one that I found on Annie's Eats to make my own version which Jeffrey and I really enjoy. The verdict is still out for Tyler and William, but they do like the recipe when I substitute chicken for the eggplant.  We can usually get them to eat at least one or two bites of the eggplant.
So regardless of whether or not it will induce labor–it is a delicious vegetarian meal where you will not miss the meat.
Eggplant Parmesan
Marinara Sauce: (1/2 recipe if only using 1 lb of eggplant)
2 T. chopped garlic
3 T. olive oil
8 cups chopped tomatoes
1 cup chopped onion
½ cup fresh chopped parsley
1 t. oregano
1 t. crushed red pepper
1/8 c. fresh chopped basil
pinch of thyme
pinch of rosemary
1 t. salt
1 t. black pepper
Lightly sauté onions in olive oil for a few minutes, add garlic and sauté another minute, add tomatoes and bring sauce to a boil. Turn heat to low and add remaining ingredients. Stir, cover and let simmer for 1 hour stirring occasionally.
Eggplant:
1 lb. eggplant cut crosswise into ¼ inch rounds
1 ½ t. kosher salt
¾ cup flour
2-3 eggs, beaten
2 -3 cups Italian bread crumbs
½ cup grated parmesan cheese
3 T. vegetable oil
Topping:
½ -1 cup ricotta cheese
1-2 cups shredded mozzarella
½ cup parmesan cheese
fresh basil torn, for garnish
Place eggplant and kosher salt in a large bowl.  Toss the two together until the eggplant is covered.  Put the eggplant in a strainer or colander over the bowl and let stand for 30 to 45 minutes.  (You should have some liquid in the bowl after this step).  Spread the eggplant slices on kitchen towels (or paper towels) and cover with another layer of towels (or paper towels).  Press on each slice removing as much liquid as possible.
Preheat oven to 425˚ F and put a rimmed cookie sheet in the oven.  In one pie plate, combine bread crumbs with parmesan.  In a second pie plate, place beaten eggs.  In a large zip top bag, put flour and about half of the eggplant slices.  Seal bag and shake to coat.  Remove eggplant from bag shaking off excess flour.  Dip floured eggplant in egg wash then in the breadcrumbs.  Set breaded eggplant slices on a wire rack.  Repeat with remaining eggplant.
Remove the cookie sheet from the oven (be careful it will be very hot!).  Add vegetable oil to cookie sheet and make sure the whole pan is coated with oil.  Place the breaded eggplant on the baking sheet in a single layer (important).  Bake the eggplant until it is golden brown (about 30 minutes).  You may need to rotate the sheet after 10 minutes if your oven doesn't heat evenly and flip the slices after about 20 minutes.  Leave the oven on, as you will need it again.
In a 9 x 13 baking dish, spread about 1/2 cup of the marinara sauce.  Place a layer of eggplant slices (overlapping them to fit) and put between 1/2  and 1 T. of ricotta cheese on each slice.  Top with another 1/2 cup of the marinara sauce.  Top with half of mozzarella cheese.  Use remaining eggplant slices to create another layer and top with sauce (make sure to leave plenty of the eggplant exposed so it won't become soggy).  Sprinkle with Parmesan and remaining mozzarella.  Bake until cheese browns and bubbles (13-15 minutes).  Cool 10 minutes and top with basil and serve with your favorite pasta.
Adapted from Scilini's and Annie's Eats.