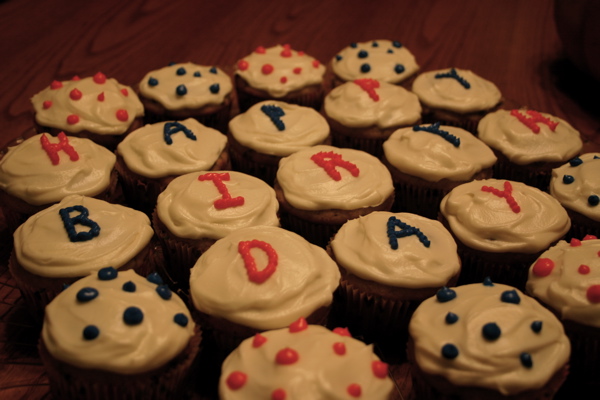 One of my favorite things about being a mother is celebrating birthdays with my boys.  I have always made them a cake or goodie of their choice and sometimes multiple items depending on how many times they are celebrating (school, family, and friends).  It can get to be a lot, and even though I may complain in the craziness of it all, I really do enjoy doing it.  Due to busyness in our own lives this year and my full calendar of catering events, I offered the boys the option of the huge Costco cupcakes.  (Gasp!)  William replied "Mom, you slacker!"  I knew then that I would be baking their goodies instead of bribing them with the store bought variety that always look enticing to them in the store.  (I am not really complaining because I would much rather provide homemade goodies instead of the store bought variety.)
This year my boys celebrated their birthdays at the bowling alley with just a handful of friends each.  (Tyler's birthday is at the beginning of October and William's birthday is at the end of October.)  This occasion was the first time I have organized a joint party for them. The party actually turned out really well.  I was beginning to have my doubts about having a joint party when the boys would not agree on a cupcake for the party.  William is a chocolate lover and Tyler was set against whatever William suggested.  They finally agreed on banana chocolate chip, and I quickly went to baking before anyone could change their mind. I also decorated them in a simple manner since they had such a hard time agreeing on the flavor. I have spent hours decorating cakes and cupcakes in the past and this was a pleasant change of pace.
I love this cake.  I first made it a couple of years ago and we all fell in love with it.  I even made it as the groom's cake for my sister-in-law's wedding because it was Isaac's (her husband's) favorite among many cakes I made in search for just the right one for their special day.
Banana Chocolate Chip Cake
Ingredients:
1/4 lb. (1 stick) butter
1 cup sugar
3 eggs, separated
1 cup mashed ripe bananas
2 cups flour
1 teaspoon baking powder
1 teaspoon baking soda
1/2 teaspoon salt
1/2 cup buttermilk
1 teaspoon vanilla extract
1 cup chocolate chips (I use mini chocolate chips for cupcakes.)
Directions:
Preheat oven to 350 degrees (325 degrees if using dark pans). Line two cupcake pans with liners (or grease and flour 2 9-inch cake pans).
Cream butter and sugar together. Add egg yolks and beat well. Add bananas and mix thoroughly.
Sift flour, baking powder, baking soda, and salt together adding them to the butter mixture. Mix until just combined. Add buttermilk and vanilla mixing until combined.
Beat egg whites in a small bowl until soft peaks form. Fold into batter gently with a spatula. Sprinkle in chocolate chips and fold together.
Scoop batter into cupcake liners (or prepared pans). Bake on the middle rack of the oven for 15-20 minutes for cupcakes or 25-30 minutes for cakes or until a cake tester inserted into the center comes out clean.
Cool in pans on a rack for 10 minutes. Remove from pans and cool completely.
When cooled completely frost with Cream Cheese Frosting.
Cream Cheese Frosting
Ingredients:
1 – 8 oz. package cream cheese
3/4 cup butter (1 1/2 sticks)
1 lb. powdered sugar
1 teaspoon vanilla extract
Directions:
Beat cream cheese and butter together until well combined. Add vanilla extract and powder sugar and beat until fluffy. You may add more powdered sugar until you get the desired consistency.