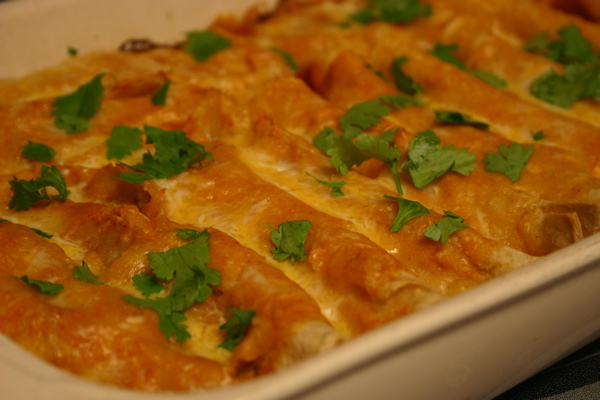 When I think of chicken enchiladas, I usually think of my mom's chicken enchiladas. They are so delicious. She used a cream based sauce loaded with cheesy yumminess. I love them. They are wonderful, but making the cream sauce and frying the tortillas is a little more time consuming than I had time for this past week.  So instead, I tried this recipe. I had actually made the sauce for these before but used them with a beef version. Since I had chicken in the fridge ready to use I decided to try these and we were not disappointed.
Chicken Enchiladas
Ingredients:
1 medium onion, finely chopped
2 jalapenos, seeded and finely chopped
1 tsp. canola oil
3 cloves garlic, minced
3 tbsp. chili powder
2 tsp. cumin
1 tbsp. sugar
1 (15 oz.) can tomato sauce
1 cup water
1 tomato, seeded and chopped
Salt and pepper
1 lb. shredded chicken
2 cups shredded Mexican Blend cheese, divided
½ cup minced fresh cilantro
12 (6-inch) soft corn tortillas
Cooking spray
Directions:
Combine the onion, jalapeno and oil in a large saucepan over medium heat. Cook, stirring often, until the onions and peppers have softened, 8-10 minutes. Stir in the garlic, chili powder, cumin and sugar, and cook just until fragrant, less than 30 seconds. Mix in the tomato sauce, water, and chopped tomato. Bring the sauce to a simmer, lower the heat and cook until slightly thickened, about 5 minutes.
Strain the sauce through a large mesh strainer into a medium bowl, pressing down on the onions and tomatoes to extract as much liquid as possible. Transfer the reserved solids to a large bowl and set aside. Season the sauce with additional salt and pepper to taste.
Add the shredded chicken to the bowl with the onion mixture. Add in ¼ cup of the enchilada sauce, ½ cup of each of the shredded cheeses, and the cilantro. Stir to combine.
Preheat the oven to 425˚ F. Spray a 9 x 13″ baking dish with cooking spray. Stack the tortillas on a plate and microwave for 40-60 seconds, until warm and pliable. Spoon 1/3 cup of the chicken mixture evenly down the center of a tortilla. Roll up the tortilla around the filling tightly, and place in the prepared baking dish, seam-side down. Repeat with the remaining filling and tortillas.
Lightly spray the tops of the enchiladas with cooking spray. Place in the oven, uncovered, for 7 minutes or until the tortillas start to brown slightly.
Reduce the oven temperature to 400˚ F. Remove the enchiladas from the oven and pour the sauce oven the top. Sprinkle with the remaining shredded cheese. Cover the dish with foil and bake for 20 minutes.
Remove the foil and bake for 5 more minutes, until the cheese is browned. Remove from the oven and let stand 10 minutes before serving.
I served mine with sour cream and a couple shakes of Tabasco. (They seemed a little sweet and the vinegar in the Tabasco really helped balance the flavor for me.)