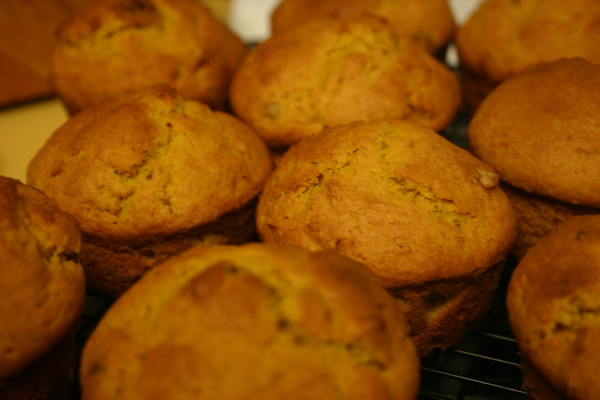 Fall is here! Wednesday is officially the first day of fall. You can't tell by the weather here in Kansas City, but we will ignore the weather and continue with our flavors of fall.
Pumpkin has to be one of my favorite flavors of all time. It may be one of my favorites since we only eat in in fall, nonetheless, it is most definitely one of my favorites. Last year, there seemed to be a shortage of pumpkin so whenever I could find pumpkin in the store I would buy it.  Given my buying spree last year my pantry is still well stocked with canned pumpkin. I didn't want to have to worry about a shortage this year.  Given this surplus of pumpkin, I guess this means you will be seeing a lot of pumpkin recipes around here in the next few months.
I have mentioned how much I love Baking: From My Home to Yours
by Dorie Greenspan and this recipe is another that does not disappoint. I have varied the mix-ins and topping on the recipe depending on the audience I am serving , but have always been pleased with the outcome.
Pumpkin Muffins
2 cups flour
2 teaspoons baking powder
1/4 teaspoon baking soda
1/4 teaspoon salt
3/4 teaspoon ground cinnamon
1/2 teaspoon ground ginger
1/8 teaspoon nutmeg
pinch of ground allspice
1 stick unsalted butter, at room temperature
1/2 cup sugar
1/4 cup packed brown sugar
2 large eggs
1/2 teaspoon vanilla extract
3/4 cup canned unsweetened pumpkin puree
1/4 cup buttermilk
1/2 cup raisins (optional – I do not usually add these as my children do not approve.)
1/2 cup chopped pecans (optional)
1/2 cup chocolate chips (optional – Something I added as a treat but a favorite of William.)
1/3 cup unsalted raw sunflower seeds, for topping. (I don't always do this but they are delicious.)
Preheat oven to 400 degrees. Butter or spray a 12 cup muffin pan (or use paper liners). I use a stoneware muffin pan and love it. I wish I had another one because I really like the way it cooks up the muffins and sometimes 12 muffins are just not enough.
Whisk together the flour, baking powder, baking soda, salt, and spices in a small bowl.
Using a stand mixer, fitted with a paddle attachment, beat the butter until soft. Add white and brown sugars and continue beating until light and smooth. Add eggs one at a time, beating for one minute after eggs are incorporated, then beat in the vanilla. Turn mixer speed to low and mix in the pumpkin and buttermilk. With the mixer still on low, add the dry ingredients in a steady stream, until they are incorporated. (To avoid overmixing,you can stir the dry ingredients into the batter by hand with a rubber spatula instead of using the mixer.) Stir in raisins, nuts, or chocolate chips, if using. Divide the batter evenly among the muffin cups and sprinkle a few sunflower seeds over the top of each muffin if using.
Bake for about 25 minutes, or until toothpick inserted into the center of the muffins comes out clean. Transfer the pan to a cooling rack and cool for 5 minutes in the pan, before carefully removing.