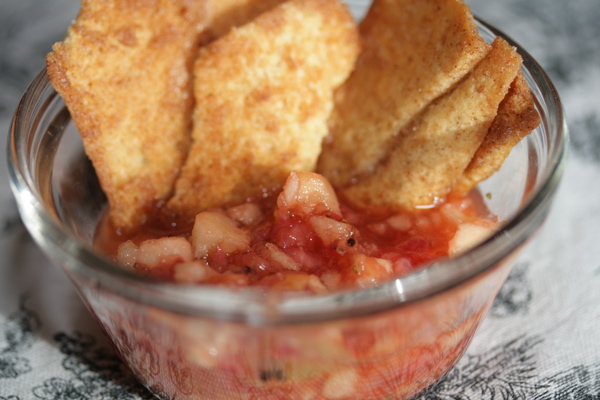 Let Labor Day Weekend begin! I don't know about you, but I am in need of a relaxing weekend. School just started a couple of weeks ago, and it has been nonstop activity at our house. We have had PTA meetings, birthday parties, family visiting, soccer games, just activity after activity. Don't get me wrong, I do love all of these things.  At the same time, I do not like having plans every night. It is exhausting and this girl needs her down time.
In the hustle and bustle of activities, one of our events was a surprise birthday party for one of our friends who had just moved back from living overseas. It was nice to surprise her with a little get-together and everyone had a great time. We all brought an appetizer and it was a great combination of yumminess. At this particular get-together, my sister-in-law brought fruit salsa (which is a family favorite recipe that apparently had gotten buried in my recipe box). It was delicious and I was scolding myself for letting it get out of the recipe rotation. I think it will be making an appearance at our Labor Day activities this weekend.
This salsa is a nice, sweet and refreshing appetizer/dessert/anytime snack. The nice thing is that if you limit your chips you really shouldn't feel guilty about sitting there with a spoon eating and eating and eating.
I am also including a recipe for Cinnamon Chips for dipping, but my sister-in-law bought Stacy's Cinnamon Sugar Pita Chips and they were really good. So if you don't have time to make the chips go ahead and look for Stacy's. (I think that is what I am planning.)
Fruit Salsa
4 peeled apples (I use a mixture of Gala and Granny Smith)
1 quart strawberries, hulled
2-4 peeled kiwi
4 tablespoons apple jelly
4 tablespoons brown sugar
Coarsely chop apples, strawberries, and kiwi with a food chopper. (I use a Pampered Chef hand chopper and think it works best.) You want the fruit to be chopped to a small size but not pulverized. I chop the fruit in batches, and as I finish with one ingredient I move on to the next tossing them in to a large bowl until everything is chopped. Mix apple jelly and brown sugar together in a small bowl until combined. Pour jelly mixture over the fruit and gently stir until everything is mixed together well. Refrigerate or serve immediately.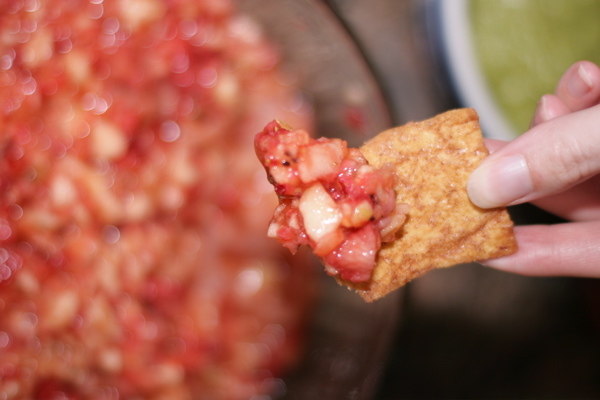 Cinnamon Chips
Cut one 8-12 count package of flour tortillas into triangles or strips. Place tortilla strips on a cookie sheet in a single layer and bake in a 400° oven for 8-10 minutes (or until golden brown). Right out of the oven, spray with cooking spray and sprinkle with sugar and cinnamon to taste. Repeat until all of your tortillas are baked. Store in an air tight container. (After trying the salsa with Stacy's Pita Chips I am going to play around with making my own pita cinnamon chips and will let you know the results as soon as my experimenting is complete.)