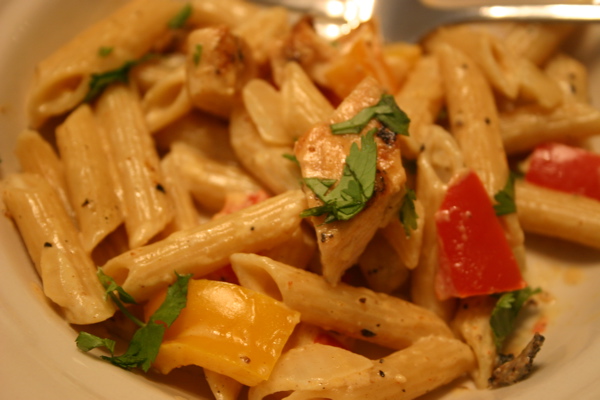 I love pasta! In my opinion, pasta is comfort food at its finest. Growing up, my family could always count on pasta at least one night out of the week. If you asked my brother what he wanted for dinner, it was normally spaghetti.  On the other hand, Jeffrey remembers Mexican food as their "go to" dinner. It will be interesting to see what William and Tyler think of as comfort food when they get married because we honestly have quite a bit of both at our house. Jeffrey and I have come to an understanding about comfort food. Honestly, sometimes he is the one requesting the pasta and I am the one with a hankering for some Mexican food.
I love scanning other food blogs or recipe indexes and have found several recipes for Cajun or Louisiana pasta and combined them to come up with one that worked for us. I think this recipe is a good mixture and one my kids also really like. Who knows, perhaps this will some day become one of my boys' comfort foods. Try it and let me know if it could be one of yours.
I like to grill chicken earlier in the week when we are using the grill and then I have the chicken already prepared so the rest comes together rather quickly. It helps with my meal planning and saves time in the long run.
Cajun Chicken Pasta
For the chicken
1 lb. boneless skinless chicken breasts
olive oil
cajun seasoning
For the pasta
8 oz. penne pasta (or your shape of choice)
1 tablespoon butter
1 tablespoon olive oil
2 or 3 bell peppers, seeded and coarsely chopped (I prefer red, orange, and yellow and normally do a mixture of them.)
1/2 of an onion, chopped
3/4 teaspoon salt
freshly ground pepper, to taste
1/4 teaspoon garlic powder or 1 clove of garlic, minced
1/2 teaspoon cajun seasoning
1/4 teaspoon ground cayenne pepper
1 1/2 cups half and half (if I have heavy cream on hand I will use 1 cup half and half and 1/2 cup heavy cream)
1 tablespoon cornstarch
1 tablespoon water
green onion or cilantro (for garnish)
Rub chicken with olive oil and season generously with cajun seasoning. I prefer to grill my chicken but you could also cut it into chunks and saute on the stove until it is cooked through. If I don't have some pre-grilled chicken on hand I grill my chicken and then cover with aluminum foil to keep it warm while I make the pasta and sauce. When the pasta and sauce are ready, I cut the chicken into bite-size pieces and toss in to the pasta just before serving.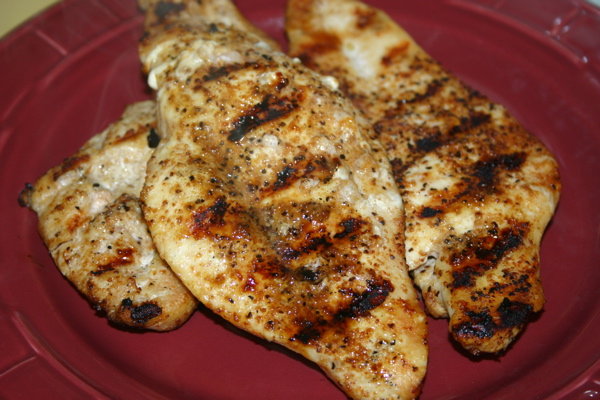 Bring a pot of salted water to boil. Cook the pasta according to the package directions. Drain and set aside.
Meanwhile, add the butter and olive oil to a skillet and heat over medium heat until the butter has melted. Add the bell peppers and onion to the pan. Add in the salt, pepper, garlic, cajun seasoning and cayenne pepper. Stir occasionally so that nothing sticks and your veggies cook evenly. Cook until the veggies are tender, about 6-8 minutes. Add the half and half (and cream if using) to the pan and bring to a simmer. In a small bowl, whisk together the cornstarch and water to make a slurry and add it to the skillet once the cream mixture has started to bubble. Allow the mixture to cook until it has thickened slightly, about 5 minutes.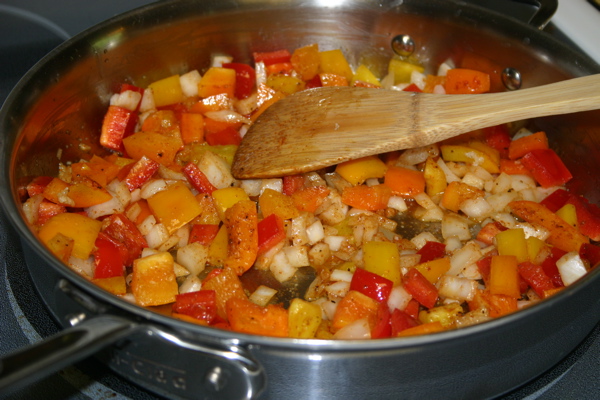 When the sauce has thickened, add the cooked pasta and chicken to the pan. Stir well to combine making sure the pasta is well coated in the yummy sauce. Top with green onions or chopped cilantro (if using). Serve immediately. This is delicious with some nice crusty bread.
Diced fresh tomatoes would also be an excellent topper also feel free to substitute shrimp or andouille sausage for the chicken