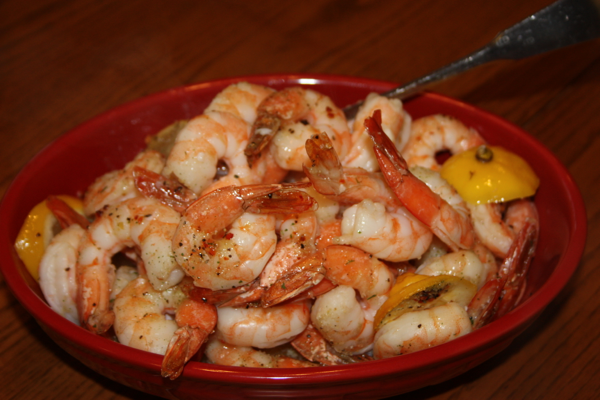 I am quite a fan of shrimp scampi. I think the love of shrimp must be hereditary. Both my mother and grandmother loved shrimp. Shrimp scampi, however, always reminds me of my grandmother. Whenever she came to visit, we always had to go to Red Lobster and she would always order the scampi.
This past week Jeffrey had a very busy week at work and by Friday he was exhausted. I had thought about going out to eat, but he crashed as soon as he got in the door. Instead of waking him up and all of us heading out to eat I decided to try this recipe for shrimp that I had seen on Pinterest several times.
The recipe is so easy and I basically just threw everything on the sheet pan and then stuck it in the oven. This was super nice because then I got to spend more time working on our sides. Overall I thought it was a very good scampi. Delicious and Simple!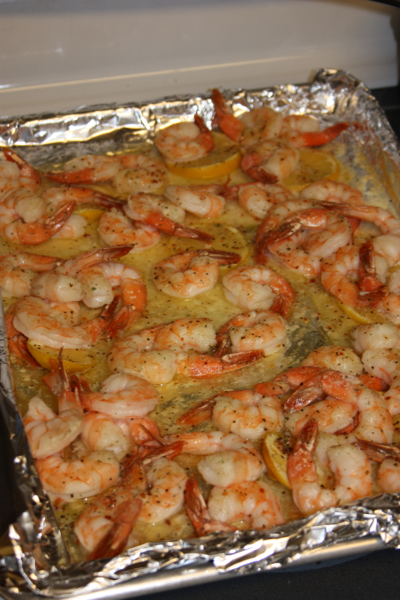 Shrimp Scampi
ingredients:
2 pounds shrimp (thawed, if frozen)
1 stick of butter
1 packet Italian dressing seasoning
1 lemon, sliced
directions:
Line a sheet pan with foil. Put the stick of butter in the pan and stick in a 350 degree oven to melt the butter. Once the butter has melted remove from oven. Add the shrimp in a single layer. Sprinkle packet of Italian dressing mix over the shrimp and top with lemon slices. Bake for 15-20 minutes.