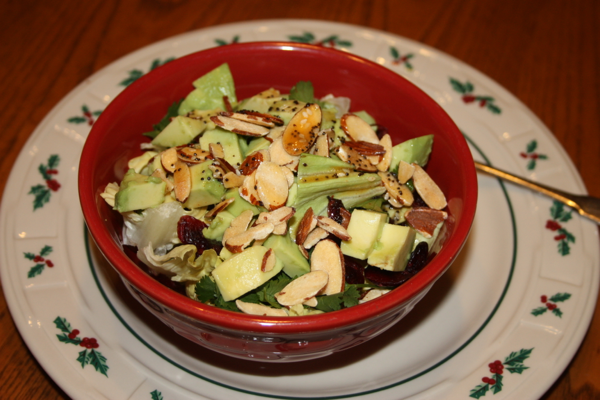 I love finding and trying new variations of salads. When I saw a recipe for this salad, I knew I had to give it a try. It was so high on my must try list that I even made a special trip to the store to buy cilantro and avocados.
The special trip to the store was very well rewarded because I loved this salad. I actually liked it so much that I had it with dinner two nights in a row. I probably would have eaten it more times than that, but I ran out of avocados.
I think this will make a nice addition to any holiday celebration. The colors work well with the Christmas season and the taste is absolutely amazing.
Ingredients for the dressing:
⅓ cup sugar
1 ½ tablespoons poppy seeds
1 ½ tablespoons sesame seeds
½ teaspoon paprika
2 teaspoons dried mustard
1 tablespoon minced sweet onion
½ teaspoon sea salt
¼ teaspoon freshly ground black pepper
½ cup champagne vinegar or white balsamic vinegar
⅓ cup vegetable oii
⅓ cup extra virgin olive oil
Ingredients for the salad:
12 ounces butter lettuce, baby spinach, or baby mixed greens
1 small bunch cilantro, washed and dried, leaves removed whole from stems
2 medium avocados, peeled and halved
¾ cup dried cranberries
¾ cup Candied Spiced Almonds (I used Trader Joe's honey roasted almonds.)
Directions:
For the dressing, combine all ingredients in a pint sized glass jar and shake well to combine and to dissolve the sugar.
For the salad, place greens and cilantro leaves in a large bowl. Add avocado and dried cranberries and about 1/4 cup of the dressing and toss gently. Scatter candied almonds over salad. Toss to coat. You may serve additional dressing on the side if needed.