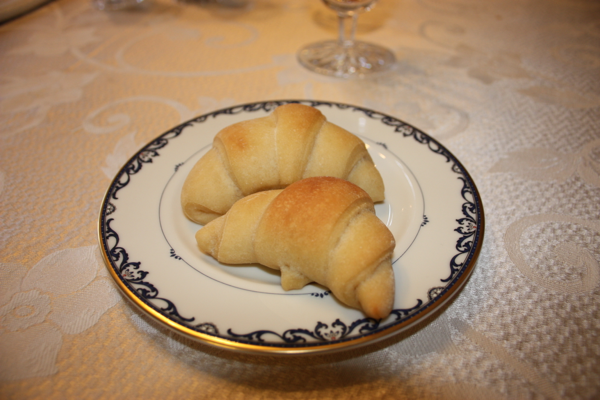 It is hard to believe that Thanksgiving is next week. I always love Thanksgiving and enjoy the anticipation and menu planning, but due to our crazy lives lately it has been put on the back burner. I even half jokingly told my family that we were eating at Taco Bell for Thanksgiving this year. I have changed my mind and we won't be eating at Taco Bell after all. I think the boys were a little relieved when they helped put the turkey in the buggy on our last trip to Trader Joe's.
I will be honest and say that some of our normal traditions will need to be adjusted to make them gluten free and if I think about it too much I can easily get stressed out. I am sure we will come through the holiday and have new favorites and some of our old favorites will probably be easier to adjust then I realize, but trying to figure out what is going to replace our family dinner rolls and how to make gluten free pies is a little overwhelming.
Today I'm sharing the dinner rolls that were a staple at Sunday gatherings at Jeffrey's grandparents house.  I'm sure that Jeffrey's Aunts grew tired of making these though folks never grew tired of eating them.  The rolls are light and delicious.  We will undoubtedly have these on Thanksgiving though I'm not sure what I'll do to make some for Tyler.  Perhaps I'll post that in a few weeks.
Our Thanksgiving menu:
Turkey (of course)
Dressing (this will not be made gluten free, but Tyler doesn't like it anyway)
Gravy (I am hoping substituting corn starch is the only change I will need.)
Cranberry Sauce
Mashed Potatoes
Sweet Potatoes (half with marshmallows and half with pecans – we are a divided family)
Green beans
Greathouse Sunday Dinner Rolls (See below)
Pumpkin Mousse with Ginger Snaps (the gluten free pumpkin pie alternative)
Pumpkin Pie
Chocolate Bourbon Pecan Pie
Greathouse Sunday Dinner Rolls
1 package dry yeast dissolved in 1/4 cup warm water
1/2 cup sugar
2 eggs, beaten
1/2 cup warm water
1/2 cup oil
1 tsp salt
4 cups flour
Mix dissolved yeast, sugar, eggs and warm water using the dough hook on a stand mixer. Add the oil salt and flour.  The dough should be stiff.  Let stand 8 hours or overnight.
Divide the dough into three equal parts.  Work each part separately   Kneed enough flour into the dough to make it workable.  Roll out the dough as if you were making a pie crust.  Cut into eight sections (like pieces of a pie or slices of pizza).  Roll like a crescent roll.  Place on a greased cookie sheet.  Let rise for six hours.  Bake 10-12 minutes at 375 degrees.