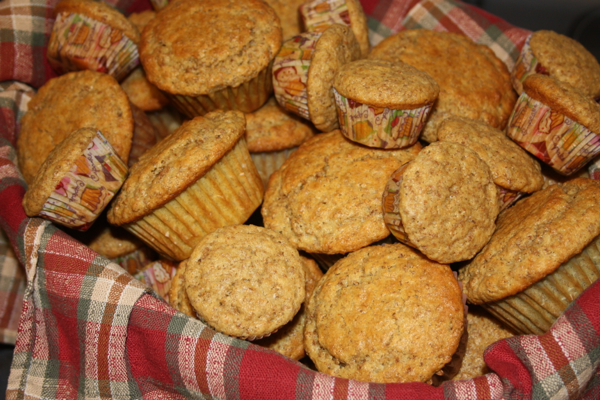 When I was younger my mom and I would frequent a tea room in Knoxville that served the best mini bran muffins before you received your food. I always loved the muffins and whenever I eat bran muffins I always think of those fun times spent with my mother. This recipe is actually Jeffrey's moms that she shared with me.
A few weeks ago when I was catering several breakfasts I knew I wanted to have these muffins at one of the breakfasts. I made more than I needed for the breakfast so I took a goodie basket of muffins and honey (Jeffrey's favorite thing to have with the muffins) over to his office. They were very much appreciated and several asked Jeffrey if these were on the blog. So better late than never here is the recipe. I hope you enjoy them as much as we do.
Bran Muffins
Printer Friendly Recipe
Ingredients:
1 cup flour
1/2 cup sugar
2 1/2 teaspoons baking powder
1/2 teaspoon baking soda
1/2 teaspoon salt
1 1/4 cups Bran cereal (I used All-Bran.)
1 cup milk
1 egg
1/4 cup canola or vegetable oil
Directions:
Preheat oven to 400 degrees. Either grease or line a 12-cup muffin tin, set aside.
Stir the cereal and milk together in a large bowl. Let sit for 5 minutes. Meanwhile, combine together flour, sugar, baking powder, baking soda, and salt in a medium sized bowl by whisking. After the cereal has softened in the milk for 5 minutes, add egg and oil to cereal mixture. Stir to combine. Gently fold in the flour mixture, making sure not to over-mix.
Scoop batter into prepared muffin tin. (The cups should be about 2/3 full.) Bake for 20 minutes.