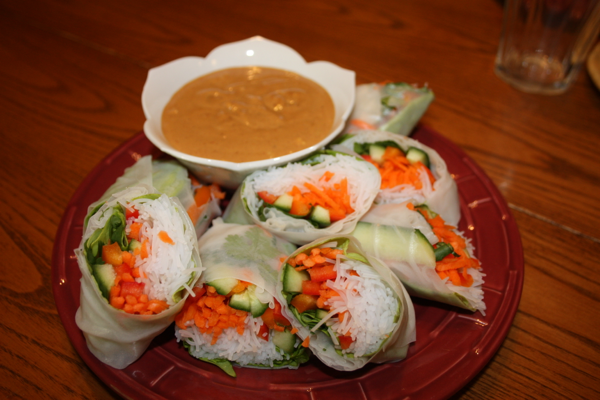 It has been incredibly hot in Kansas City. The last couple of days the heat has been so yucky that even spending the day in the pool hasn't been enough to keep us cool. Needless to say, heating up the house with the oven is on the bottom of my list of things to do.
I love getting spring rolls at the Vietnamese restaurant in town and so I thought I would give them a try at home. For my first attempt I settled on veggie only spring rolls, but now that I have made them and realized they weren't too hard, I will be adding some sliced pork and shrimp to some in the future. I know Jeffrey will appreciate the addition of meat though to his credit he did enjoy the veggie only spring rolls. Tyler even got in on the action of making a few and enjoyed them. (I honestly think this was the greatest consumption of raw vegetables at a single sitting that he has ever had.)
If you are looking for a light summer meal or appetizer, this is a fun one. After the prep work of cooking the noodles (which can be refrigerated) and chopping the vegetables they come together rather quickly.
Spring Rolls with Peanut Dipping Sauce
Printer Friendly Recipe
Ingredients:
1 cucumber, cut into thin, long strips
1 red pepper, cut into thin long strips
shredded carrots
1 head of green lettuce, any kind (my favorite is butter/bibb lettuce)
1 bunch cilantro
Rice paper
Rice sticks (found in the asian section of the grocery store)
For the dipping sauce:
1 large clove garlic, minced
1 teaspoon olive oil
1/4 cup peanut butter
2 teaspoons hoison sauce
1/2 teaspoon soy sauce
1/4 cup water (more if needed)
Sriracha chili sauce, to taste (optional)
Directions:
Cook the rice sticks according to package directions. When they have finished cooking, rinse under cool water and place in a colander to drain.
While the noodles are draining, combine the dipping sauce ingredients in a small bowl and whisk until well combined.
To assemble rolls, dip single sheets of rice paper into hot water (Given the size, a pie plate was just about perfect for this task). Allow excess water to drain and quickly place on paper towel. (You will know when the paper is ready because it becomes pliable and soft.) Place a piece of lettuce, softened noodles, shredded carrots, cucumbers, red peppers, and cilantro. Carefully roll closed by turning the bottom of the wrapper over the filling and then folding the sides in and continuing to roll burrito style. Cut in half. Serve with hoisin peanut dipping sauce.