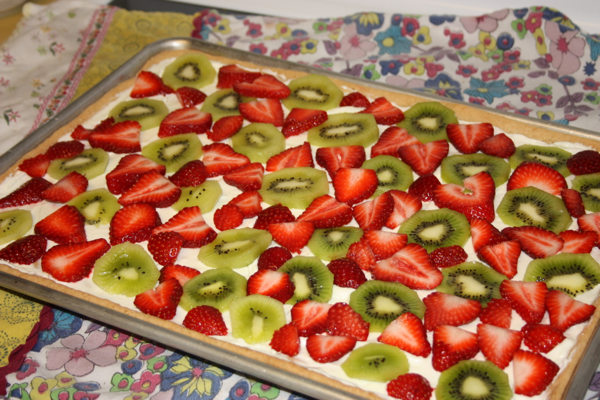 The other day I needed to take a dessert to the boy's school for a luncheon for the teachers. I was short on time so I was looking for a dessert that would be easy to throw together but still delicious. I thought about this fruit pizza that we have enjoyed several times around our table. I did adjust the recipe a bit and cooked it in a half-sheet pan instead of on my round pizza stone which is the norm at our house. It worked out perfectly.
It think it was well received because when I went to pick up my pan there were only 2 pieces left. It was a great way to take advantage of the yummy strawberries that are in season and so delicious. I added some kiwi for another color but you could top it with your favorite fruits. I have used mandarin oranges, peaches, raspberries, blueberries, strawberries, and kiwi. Pick your favorite fruit for topping and I know you will be pleased.
Deep Dish Fruit Pizza
Ingredients:
2 tubes sugar cookie dough (or your favorite sugar cookie recipe doubled)
2 packages cream cheese, softened
2/3 cup sugar
strawberries and kiwi for topping (or the fruits of your choice)
Directions:
Spray a half-sheet pan with non-stick cooking spray. Preheat the oven according to your sugar cookie recipe/package. Press the sugar cookie dough into the bottom of the prepared sheet pan. Bake for about 20 minutes or until the cookie is set and starting to turn golden brown. Let the cookie cool.
Combine the sugar and cream cheese together and beat until smooth. Spread the cream cheese mixture over top of the baked cookie. Top with fruit of your choice. Refrigerate until ready to serve.