Over the weekend, while we had our house guests, I decided to give this salad a try. I have always been a fan of Asian chicken salads and thought it would make a great light lunch on Saturday. It was a hit with the entire family and super easy to throw together. There is quite a bit of chopping, but I delegated and with all of us helping in the kitchen lunch was on the table in no time.
Since we had such a large group eating I didn't measure my ingredients and just kept adding more veggies to the already large pile of cabbage and lettuce. As my bowl kept growing and growing I was afraid we wouldn't finish the salad but our large bowl of yumminess was eagerly consumed.
I will be happy to add this recipe to my list of easy and light meals this summer.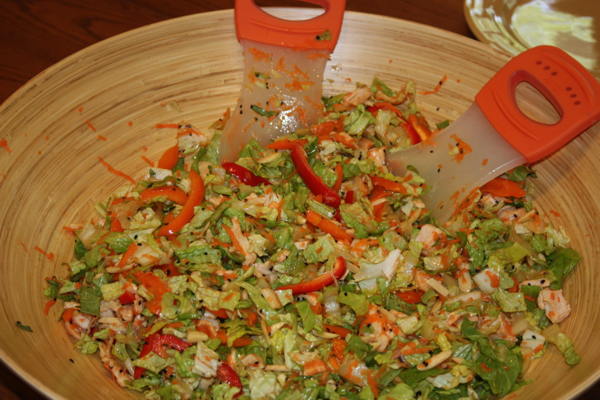 Asian Chicken Salad
Printer Friendly Recipe
Ingredients:
1 large carrot, peeled and shredded
3 cups shredded napa cabbage
3 cups shredded romaine lettuce
1 red bell pepper, cored, seeded, and thinly sliced
2 tablespoons fresh basil, chopped
2 cups shredded or thinly sliced rotisserie chicken
1/2 cup toasted slivered almonds
1 tablespoon black sesame seeds
1/4 cup oil (peanut or vegetable oil)
2 tablespoons soy sauce
2 tablespoons rice vinegar
1/2 teaspoon sugar
salt and pepper to tast
1/2 cup chow mein noodles, for garnish
Directions:
In a small bowl or measuring cup whisk together the oil, soy sauce, vinegar, and sugar until smooth. Season with salt and pepper to taste. (If you like a bit of spice, you could also add Sriracha sauce to your dressing or directly to the salad.)
Combine shredded carrot, napa cabbage, romaine lettuce, bell pepper, basil, chicken, almonds, and sesame seeds in a large bowl.
Pour the dressing over the salad and toss well. Garnish with the chow mein noodles and serve.