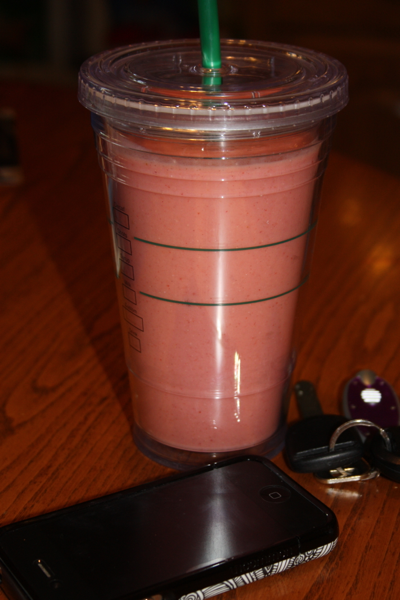 Quite often it seems, I am racing out the door and grabbing a granola bar, piece of toast or something quick on the way out to eat. (I am not always the best about sitting down to eat breakfast although I know it is important to fuel myself before heading out.) This smoothie is a great alternative and one way that I can grab something to go without feeling guilty.
Several years ago, we invested in a Vitamix and I have never looked back. It was an awesome purchase and we use it often. I have even been known to take it on vacations with us. (I am already trying to figure out if I can get in on a plane the next time we go skiing.) All that to say that I can throw anything in my blender and have a smooth and satisfying drink.
I experiment often with flavors and sometimes they are a bigger hit than others. This one was definitely a new favorite for William and Tyler. William even requested a refill after downing his. Unfortunately, I had just made enough and he had to wait until the next morning to get another serving of this yummy smoothie.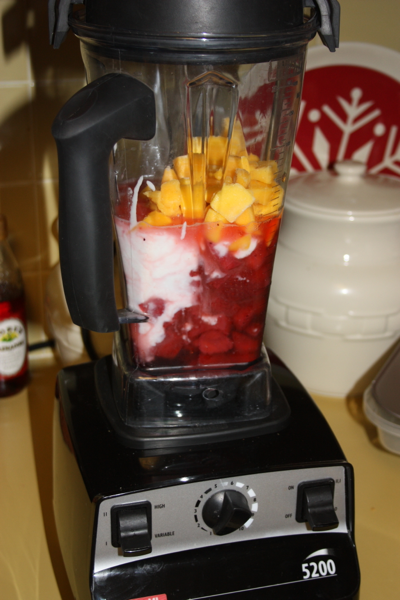 Strawberry Mango Oatmeal Smoothie
Ingredients:
1 cup white grape cherry juice (it's what I had in the refrigerator.)
1 1/2 – 2 cups strawberries
1 – 1 1/2 cups frozen mango
1 cup yogurt (I used a plain yogurt that I had lightly sweetened but vanilla would also work.)
1 tablespoon steel cut oats (uncooked)
Directions:
Combine all ingredients in your blender and blend until smooth. Pour in glasses and enjoy.