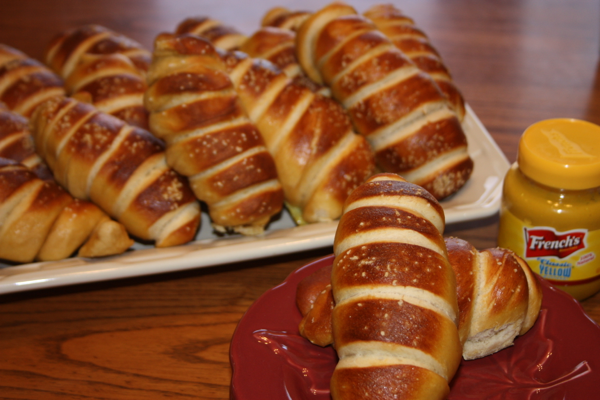 This week has been Spring Break for my boys. Since we did not go on a trip for Spring Break, we have done fun things throughout the week. We have had a great time and taking advantage of no school.
Some of the highlights from the week were: going to see The Lorax (great movie with a great message!), the boys went to a Sporting KC reserve game (soccer) and met several of the players, a day at the zoo (Jeffrey even took the day off and joined us), and yummy food. We still have a couple of days left before school starts back so we have some more adventures still to come.
My boys love pretzel bread and I have been dying to try making pretzel rolls, but decided that pretzel dogs would be great for Spring Break. They were scrumptious. We even froze part of them and had them later in the week and they were still quite delicious and such a treat. Yay for fun adventures and yummy food!
Pretzel Dogs
Printer Friendly Recipe
Ingredients:
1 ½ cups warm water (between 110 and 115 degrees F)
1 tablespoon granulated sugar
2 ¼ teaspoons (1 package) active dry yeast
4 ½ cups all-purpose flour
2 teaspoons salt
2 tablespoons butter, melted and cooled
about 16 cups of water
1 cup baking soda
1 large egg, beaten, with a splash of water
coarse salt for topping
Directions:
In the bowl of an electric stand mixer fitted with a dough hook, combine warm water and sugar. Sprinkle the yeast on top of the water and set aside for 5 minutes. The mixture will become foamy as the yeast begins to activate.
After the yeast has activated, add the flour, salt, and melted butter. Using the dough hook, mix on low speed until well combined. Increase the speed to medium and knead the dough until it is smooth and pulls away from the side of the bowl, about 4 minutes. The dough will become a ball and will be soft and pliable.
Remove the dough from the mixer bowl and place it in a large bowl sprayed with cooking spray. Sprinkle the dough with flour and cover with plastic wrap. Place it in a warm place to rise until doubled in size, about 1 hour.
Place baking racks in the center and upper third of the oven. Preheat oven to 425 degrees F. Line two baking sheets with silicone baking mats or parchment paper sprayed lightly with cooking spray.
Combine water and baking soda in a large stockpot and bring to a boil.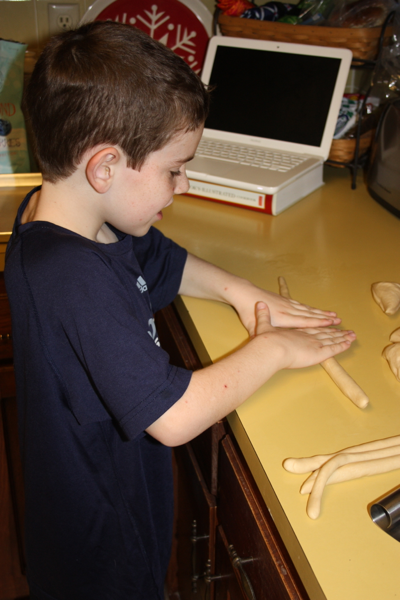 While the water comes to a boil, turn the dough out onto a clean, slightly oiled work surface. Divide dough into 8 or 16 pieces, depending on how large you'd like your pretzel dogs. 8 pieces of dough for whole hot dogs. 16 pieces of dough if you are using hot dog halves.
Start with the fingers of both hands in the center of the dough, and roll, moving your hands outward as you roll. Roll the dough along the oiled surface until you have about a 24-inch or 12-inch piece of rope (depending on the size of your hot dogs.)
Wrap the dough around each hot dog, making sure to seal the ends. (They will look like mummies.)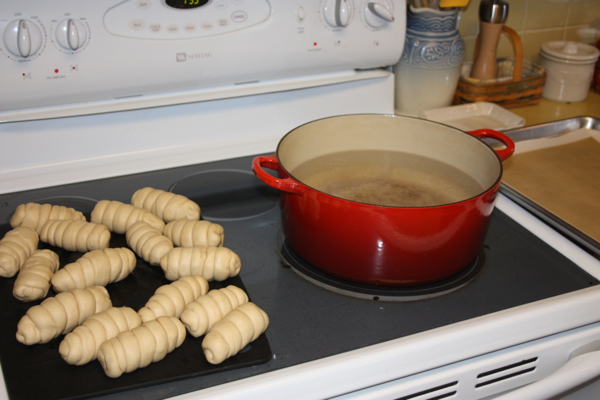 When water has come to a boil, gently lower a few pretzel dogs into the boiling water. Boil for 30 seconds. Remove carefully, using a flat, slotted spatula.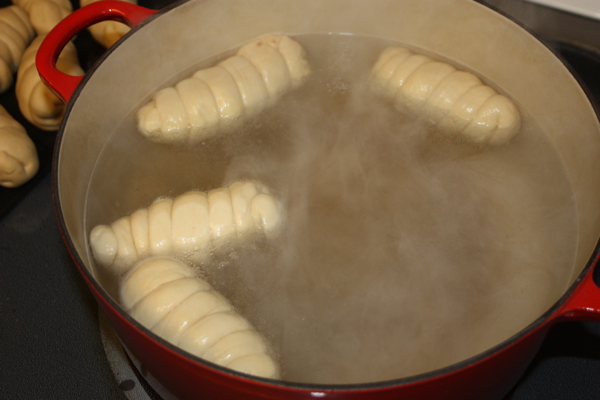 Place on prepared baking sheets. Brush boiled pretzels with beaten egg, and add coarse sea salt.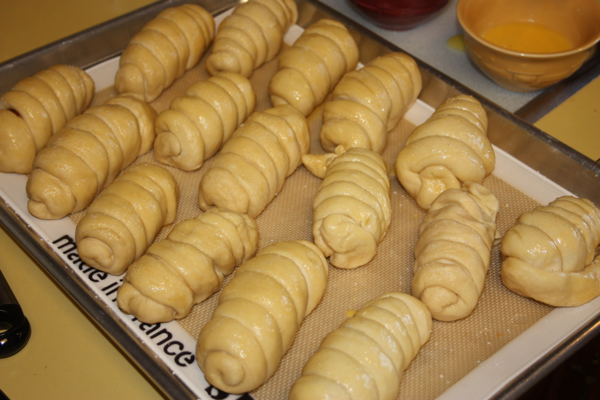 Bake until deeply golden brown, about 12-16 minutes.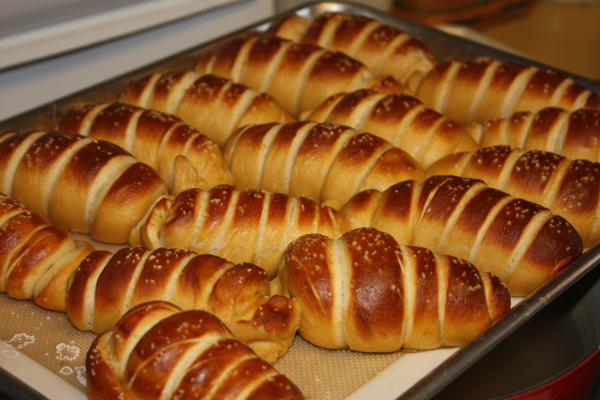 Baked Pretzel dogs can be frozen and reheated in a 350 degree oven for 12 minutes. Wrap in foil before baking.