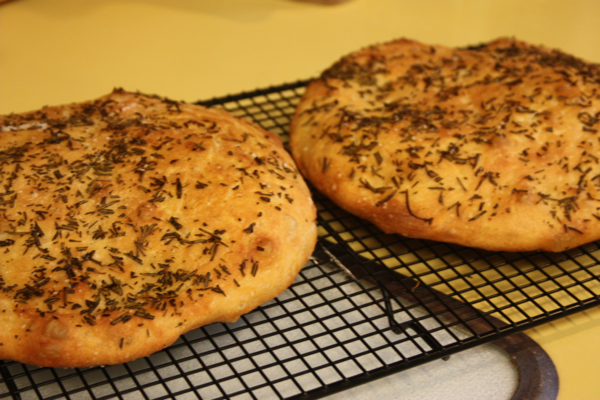 I thought it would be fun to try my hand at focaccia bread. When there was a recipe for it in my new cookbook, I knew it was time. The results were delicious. The focaccia turned out light and airy but with a crisp crust. It was perfect with our spinach lasagna and the second loaf was a great bread for panini sandwiches.
This recipe does take some time, but most of it is time spent waiting for the dough to rise before doing the next step. (You also make a sponge for the dough so no last minute deciding this is the recipe, you need to plan at least the night before. :)) The dough is super soft and you turn the dough instead of kneading it to insure that the interior has some of those much loved air pockets. I was a little intimidated at the beginning, but America's Test Kitchen had done all the work to insure that my bread came out great. Looking back I think it was super easy and I will be attempting new varieties in the future.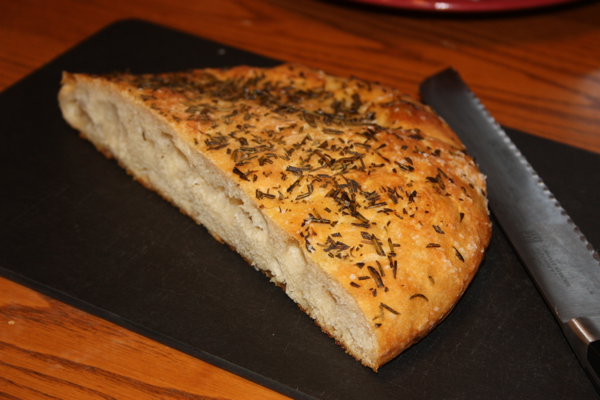 Rosemary Focaccia
Printer Friendly Recipe
Ingredients:
Sponge:
1/2 cup all-purpose flour
1/3 cup warm water
1/4 teaspoon yeast
Dough
2 1/2 cups all-purpose flour
1 1/4 cups warm water
1 teaspoon yeast
kosher salt
4 tablespoons extra-virgin olive oil
2 tablespoons chopped fresh rosemary
Directions:
For the sponge, combine the three ingredients together in a large bowl and stir with a wooden spoon until well combined. Cover with plastic wrap and let stand at room temperature 8-24 hours. (You can make this up to 3 days in advance just make sure you refrigerate it after the 8-24 hours, when you are ready to use it let it sit at room temperature 30 minutes before beginning the dough.)
For the dough, stir flour, water, and yeast into the sponge with a wooden spoon until everything is well combined. Cover with plastic wrap and let it sit at room temperature for 15 minutes.
Sprinkle 2 teaspoons kosher salt over the dough and stir until thoroughly incorporated, about 1 minute. Cover with plastic wrap and let rise at room temperature for 30 minutes. Spray rubber spatula with non-stick cooking spray. Fold partially risen dough over itself by gently lifting and folding the edge of the dough toward the middle. Turn the bowl 90 degrees and fold again. Continue 6 more times, you will have folded the dough a total of 8 times. Cover with plastic wrap and let rise for 30 minutes. Repeat folding,turning and rising 2 more times, for a total of three 30-minute rises.
One hour before baking, adjust oven rack to the upper-middle position, place baking stone on rack, and heat oven to 500 degrees.
Gently transfer dough a lightly floured counter. Lightly dust top of dough with flour and divide it in half. Shape each piece of dough into 5-inch rounds. Coat two 9-inch round cake pans with 2 tablespoons olive oil each. Sprinkle each pan with 1/2 teaspoon kosher salt. Place round of dough in pan, top side down; slide dough around in the pan to coat bottom and sides with oil, then flip dough over. Repeat with second piece of dough. Cover pans with plastic and let rest for 5 minutes.
Using your fingertips, press the dough out gently toward the edges of the pan. (Be careful not to tear the dough.) If the dough resists, let it sit for an additional 5 minutes until you can press it toward the edges. Once the dough has been pressed out toward the edges take a dinner fork, and poke the entire surface of the dough 25-30 times, popping any large bubbles. Sprinkle dough evenly with chopped rosemary. Let rest in pans until slightly bubbly, 5-10 minutes.
Place pans on baking stone and lower oven temperature to 450 degrees. Bake until tops are golden brown, 25-28 minutes, rotating pans halfway through baking. Transfer pans to wire rack and let cool for 5 minutes. Remove loaves from pans and return to rack. Brush tops with any oil remaining in pans. Cool for 30 minutes before serving.
*Focaccia will keep 2 days at room temperature if double wrapped in plastic wrap.