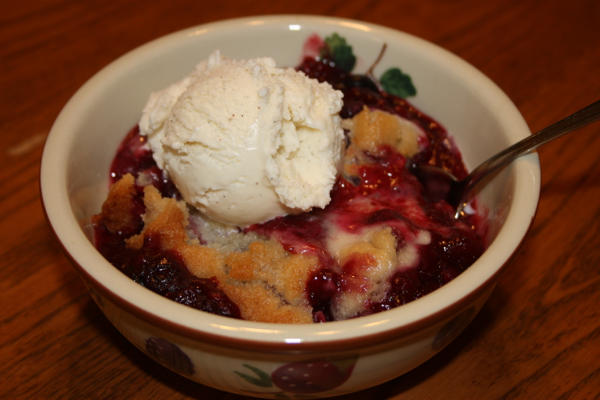 Last week was quite busy at our house and this one is gearing up to be a busy week as well. I am just holding on knowing that once I make it through this week I can slow down and do some fun baking for Christmas.
Even in the chaos of our week, we were able to have some friends over for dinner on Saturday night. I had catered a dinner party Friday night so I was looking for an easy meal. Our friends even found it humorous when they called me Friday and asked what they could bring. I replied to them, "don't worry about bringing anything. I have no idea what we are having." That's just how I am sometimes. I love to wait until the last minute to decide what to make. Finally after going back and forth with Jeffrey over menu options, we finally decided on the meal. (Jeffrey was the main chef for the main course while I was his sous chef so he will be sharing the main course later this week.)
This dessert was a logical choice as it is super easy to throw together–even at the end of a long week. I usually don't rely on prepared ingredients and like to make most things from scratch; however, this is one of the recipes I do pull out on occasion. It comes together in a matter of minutes and then bakes in the oven for 45 minutes to 1 hour. Served warm with some vanilla ice cream and you have a yummy dessert on your hands with minimal work. If your family has a berry-a-holic like ours does, you might even convince them to help you put this together.
Mixed Berry Cookie Cobbler
Printer Friendly Recipe
Ingredients:
2 (12-ounce) packages frozen mixed berries, thawed
1 (21-ounce) apple pie filling
1/4 cup sugar
1 1/2 teaspoons cinnamon
1 (18-ounce) tube pre-made sugar cookie dough
Directions:
Preheat oven to 350 degrees.
Combine berries, apple pie filling, sugar and cinnamon together in a bowl. Pour into a large baking dish (mine is a round 2 1/2 quart). Crumble the cookie dough over the fruit mixture making sure to cover with a thick layer of cookie dough. Bake uncovered 45 minutes or until the cookie is golden brown. The juices from the fruit will be bubbling up. Serve warm with ice cream.