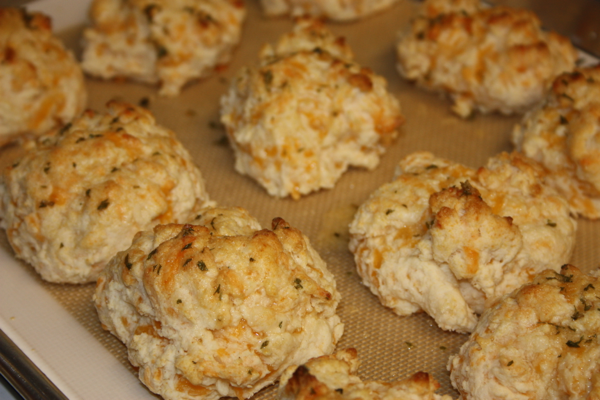 Monday night our family decorated our Christmas tree. It has become a family tradition to decorate our tree together while listening to Christmas music (Jeffrey always votes for the Carpenters). I had spent most of the day working at trying to get things ready for our "decorating party" so I needed something easy for dinner.
I decided around lunch time that I would make a pot of vegetable-beef soup and let it simmer until we were ready to eat. I knew we would need something to go with our soup so I was racking my brain trying to decide what else to add to the meal that would be easy. I finally decided to try my hand at a biscuit similar to those you get at a popular chain seafood restaurant. I thought garlic-cheddar biscuits would make a nice addition and that the kids would really enjoy them. I was right!
These biscuits baked up perfectly. They tasted delicious and were quite fluffy. They were perfect side to our hearty vegetable-beef soup. (I will try to recreate my soup recipe in the future. It was quite tasty, but I didn't measure anything that I added to the pot. I knew in the process that it would probably be one of the best soups I had made, but in my hurry to get it simmering no measuring happened.) Until I can recreate the soup, perhaps these biscuits will go well with your next pot of soup.
Garlic-Cheddar Biscuits
Printer Friendly Recipe
Ingredients:
2 1/2 cups baking mix (I use Bisquick)
3/4 cup milk (I used 1/4 cup half and half and 1/2 cup skim milk)
4 tablespoons cold butter, cut into pieces
1/4 teaspoon garlic powder
1 1/2 cups cheddar cheese, grated
For topping:
2 tablespoons butter, melted
1/4 teaspoon dried parsley flakes
1/2 teaspoon garlic powder
Directions:
Combine baking mix an butter together in the food processor pulsing until the butter is cut into small pieces (about the size of peas) and the mixture resembles cornmeal. (You could alternatively do this is a large bowl using a pastry cutter but I liked using the food processor.) Pour the mixture into a large bowl if using the food processor. (If you used a pastry cutter leave in the bowl you used previously.) Add cheese, mil, and garlic powder. Mix by using a wooden spoon and finishing by hand until well combined.
Drop approximately 1/4 cup portions onto a cookie sheet. (I lined mine with a Silpat silicone mat.) You should have enough dough to make 12 biscuits.
Bake for 14-17 minutes or until the tops begin to lightly brown.
Combine the melted butter, parsley flakes, and garlic powder together and brush over the tops of the warm biscuits. Serve warm.