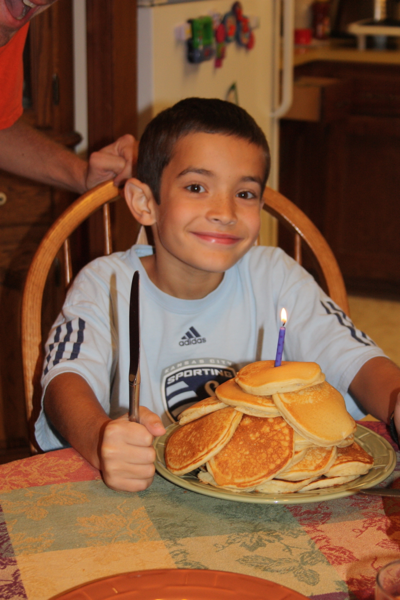 As I was working on what to post for today, I was surprised that I had not shared this recipe with you yet. We love pancakes and for 4 years we ate pancakes every Sunday night. Pancake night was lots of fun and we had tons of college students over to eat our pancakes. Banana pancakes were a regular on the rotation.
I first fell in love with Banana pancakes when I ate them at a local hotel for breakfast. They were quite delicious. I was then on the lookout for a recipe I could use at home. To my surprise, I found an excellent recipe in one of my Mom's old home economic's cookbooks. Let's just say it will hold a bookmark on that page indefinitely.
My boys, who love pancakes as much as I do, really enjoy banana pancakes. We keep fresh bananas on hand around our house. My children are sneaky though.  If they want banana bread or would like banana pancakes, they just stop eating bananas until our supply is overly ripe.  They then politely request pancakes or bread be made out of the bananas.
Just in case the picture is misleading, William did not eat the entire plate-full of pancakes. We shared this pile for breakfast on his birthday. I thought it would be fun to put a candle in them to start the celebration of his day.
Banana Pancakes
Printer Friendly Recipe
Ingredients:
2-3 ripe bananas
1 1/2 cups buttermilk
2 eggs
2 tablespoons sugar
2 cups self-rising flour
1/4 teaspoon baking soda
2 tablespoons melted butter
Directions:
Mash bananas; add buttermilk, eggs and sugar. Blend well. Add flour and baking soda. Beat thoroughly. Add melted butter stirring to combine. Bake on a greased griddle. Serve with butter and warm maple syrup.
* To make your own self-rising flour combine 1 cup all-purpose flour plus 1 teaspoon baking powder, 1/2 teaspoon salt, and 1/4 teaspoon baking soda. (You will need to double these amounts to make the 2 cups required in the banana pancake recipe.)